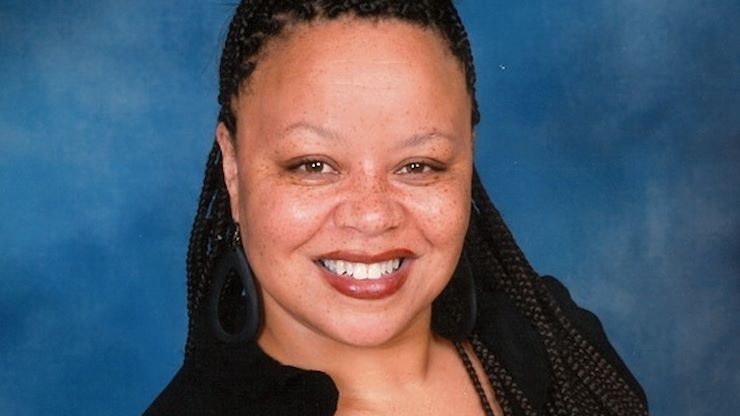 Just as she did the last time she lectured on the subject, Lailah Dunbar-Keeys began the seventh and final session of the "Racism in America" series this semester by asking "what does it mean to be an American?"
In her May 5 lecture, "What Are We Doing Today That Continues to Perpetuate Racism and What Can We Do, as a Society, to Proactively Destroy Racism?" Dunbar-Keeys, an adjunct assistant professor of sociology at the Community College of Philadelphia, returned to explore how society unconsciously perpetuates racism and examines ways to proactively destroy it. The goal was to increase participants' understanding of what perpetuates racism and what they could can do to help the nation heal.
"In this session, we will determine what we can do right to dismantle systemic racism," she said. "We are all here because this is in fact what we believe, this is in fact what we want and this is in fact what we are striving to do."
Dunbar-Keeys offered five premises for the audience to consider:
Racism is a result of racist ideas, created to justify the exploitation of people of color for profit and to redirect the blame away from racist policies onto the victims of those policies and practices.
We are all socialized by racist ideas regardless of background and it does not makes us bad people if we demonstrate racist ideas. It takes a lifetime to deconstruct those ideas and build new thoughts and behaviors to replace them.
Racist ideas are demonstrated both overtly and covertly.
We have power to change racist behaviors.
Creating a free and just society is the ultimate goal for all people.
Dunbar-Keeys later focused on what racial justice actually looks like which includes a peaceful, well-educated, innovative, healthy, liberated, respected and authentic society that benefits everyone.
Racial justice, she said, is established through a number of ways not the least of which includes: comprehensive racial equity training for community leaders including teachers, administrators, and school staff; healthcare workers; business leaders in charge of hiring practices; banking employees and real estate brokers and agents, who can end defacto policies that make it difficult for people of color to purchase homes; and justice workers, including police officers, to end racial bias, profiling and other forms of discrimination and abuse.
"This is what we want leaders to do," said Dunbar-Keeys. "We want leaders to be smarter than us. We want to trust our leaders. We want them to have understanding of history."
She closed out her lecture focused on what it means to be anti-racist and how white people can become allies to people of color. She used the work of American author and historian Ibram X. Kendi, to explain the difference between a racist and anti-racist.
"A racist is one who supports policy through action, inaction or supports racist ideas," she said. "An antiracist is someone who supports, through action or expression, antiracist ideas."
To close, Dunbar-Keeys focused on what it means for white people to be an ally to people of color. She said that it was important to read, educate yourself and reflect on what you've learned. She also encouraged white people to build relationships with people of color and continue working to challenge and dismantle racism.
"Do not appoint yourself," she said. "Let someone else tell you you're an ally. Don't participate in call out culture. And don't talk about being an ally every chance you get."
"Whatever we construct, we can deconstruct," she continued. "These are ideas that exist in our physical material realm but don't have to remain with us. If we can change our thinking we can absolutely change our condition."
Racism in America: Understanding the History of Slavery and its Impact on America Culture" is presented by the Richard K. Bennett Lectureship Series, hosted by the Montgomery County Community College Lively Arts Series. The online seven-part series, facilitated by Dr. Fran L. Lassiter, MCCC English Associate Professor, delves deeply into why slavery came into existence and how it was constructed. Each session analyzes the impact of racism and illuminates the efficient systems -- both dejure and defacto -- that were put in place to control and dehumanize African Americans, a system of segregation and discrimination that is threaded deeply into our social system, which still permeates in our society today.
The series will begin again next year.