Legacy is a concept Dr. Steven Baron thinks about a lot when it comes to his time at Montgomery County Community College.
Mustang pride is in his blood. Multiple generations of his family have been associated with MCCC over its five-decade history. Baron himself has sat on both sides of its classrooms; first as a student and later as a professor- a title he's held for nearly three decades.
Yet for the 59-year-old associate professor of Psychology, one of his most important Montco legacies is the mark he leaves on his students.
"One of the things I love about Montco is we get to teach and watch students grow," said Baron, who lives in Chalfont, Pa. with his wife, Cindy, who is also a teacher, with whom he frequently discusses education. "We get to be a part of an environment that it is top to bottom supportive of students. What motivates me? Knowing how many students we can teach and impact."
That deep sense of commitment to his students is a big reason why Baron was named this year's recipient of the Christian R. and Mary F. Lindback Foundation Award for Teaching Excellence. The award recognizes full-time faculty whose teaching is intellectually stimulating, accessible for all students, and demonstrates a commitment to the well-being of students both inside and outside of the classroom.
"Students noted that Dr. Baron has truly changed their experience at MCCC for the best. His classes challenge students and link psychological theories, research, and practice with applications in everyday life," said Dr. Gloria Oikelome, Vice President of Academic Affairs. "Dr. Baron is the type of professor who is willing to go the extra mile for students. Despite his extraordinarily busy schedule, he makes himself available to help students with class and life issues."
Baron's legacy at MCCC began with his parents, Dr. Ned and Ada Baron. His dad was a psychiatrist and was among the first generation of faculty at the College. He taught in the Social Sciences Department. His mom was among the first generation of students at the College, who took classes under Dr. Martin Gelman, Professor of Psychology and Anthropology (emeritus). Gelman is a 1999 Lindback award recipient and Baron's godfather. It was Gelman who would eventually invite Baron to interview for a teaching position at the College in 1992.
In high school, Baron was a highly recruited athlete. He swam the short distance butterfly and was a goalkeeper on the soccer team. Deciding on a four-year institution that put as much emphasis on a quality education as it did its athletics program was not easy, he said. In fact he took too long to decide and lost out on each of his opportunities. The Montgomery County native was not out of options though. He decided to enroll at MCCC to pursue an associate's degree.
"I was fortunate my father was one of first faculty members, and my mother was one of the first to take classes," he said. "It was an easy decision. Sports didn't work out, but I have this great opportunity in my backyard."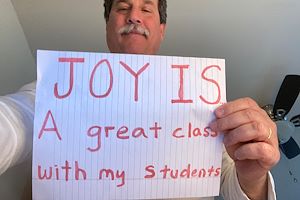 In 1981, Baron transferred to the University of Delaware, where he earned a bachelor's degree in Psychology and Sociology, with minors in Physical Education and Philosophy. He followed that up with a master's degree in Socio-Psychology of Sport from the University of Southern California; a master's degree in Counseling Psychology from the University of Delaware; and a Ph.D. in education from Temple University. He is a Montco alumnus by reverse-transfer credits, since he did not finish his degree program.
During his career, Baron has held numerous teaching positions at colleges and universities close to home and across the country including Immaculata University, Gwynedd Mercy University and Johns Hopkins University. Baron has also held faculty positions at the Philadelphia College of Osteopathic Medicine and the University of Southern California and had the honor to present at back-to-back American Psychiatric Association National Conventions. He further holds a professional affiliation with the World Psychiatric Association.
Gelman recruited Baron to Montco while he was working part time at a community college in Delaware and completing his doctorate. He became a full-time faculty member in 1996.
"It was a dream job in my backyard," said Baron. "I was back in the place that helped me get started."
At MCCC, Baron has built on an already incredible career. His past research focused on traumatic brain injury, sport psychology and values in sport. In 2012, his first book was published—"Clinical Sports Psychiatry," Baron, Reardon and Baron. Most recently, he's researched the biopsychosocial model of youth sports, and the lifespan of developmental changes.
"With my two sons, I have a book chapter coming out this summer that's being released out of Europe that helps parents navigate youth sports," he said.
One of those sons is Michael Baron, an MCCC psychology lecturer. Watching Michael give "as much, if not more, effort as his father" to supporting his students fills Baron with pride as a parent, colleague, alumnus and full-time faculty member.
"As a father, it puts a smile on my face to know I did something right," he said. "For him, it has nothing to do with the money and everything to do with positive change."
Baron's older son, Steven, holds a doctorate in physical therapy and has worked closely with his brother and dad on a project promoting MCCC's Athletics Department.
"We want to build upon the great work they've done to make Montco shine as a wonderful sports program," Baron said. He appreciates the time his son has given of himself toward the effort. "They were both raised to understand that Montco is something special, and he's there to do something to support it."
In the classroom, Baron combats complacency by understanding his work is never finished. He seeks to challenge students but also give as much of himself as he can to support them.
"My son and I both approach the first day the same," he said. "We tell students we can't be the best teacher for all of you. My personality won't fit some of you. I've had students sit side by side -- one person raves about me, another goes on RateMyProfessor.com and says I should be fired."
Baron never wants students to feel like they didn't need to work hard to earn a high grade in his class.
"The thing I've valued the most in teaching is I'm going to challenge you to bring out your best by me giving you my best," he said. "Teachers and students need to do their best for the betterment of everyone."
Outside the classroom, Baron continues to support students.
He is a co-advisor of the Psychology Club and Psi Beta, the Community College National Honor Society in Psychology, with Dr. David Kowalski, Associate Vice President of Institutional Effectiveness & Strategic Innovation, and Michael Baron.
Alumni who participated in the Psychology Club and graduated from Montco's Psychology Program are now doing great things – earning their bachelor's degrees from some of the top 20 schools in the country, finishing their doctorates and presenting at national conferences, he said.
"You would like to think you're never done growing," said Baron, "but seeing students shine in this program has been wonderful."
When news reached him that he'd been selected as this year's Lindback award recipient, Baron said was "humbled" and grateful. He thanked his colleagues for their support, many of whom had reached out to congratulate him. He also gave special mention to Dr. Oikelome, Dr. Aaron Shatzman, Dean of Social Sciences, Dr. Keima Sheriff, Assistant Dean of Student Programs, Dr. Kowalski and Michael Baron.
"We have some really good people at Montco," he said.
It appears Baron has no need to be concerned about his legacy at MCCC. He's already left a lasting one.