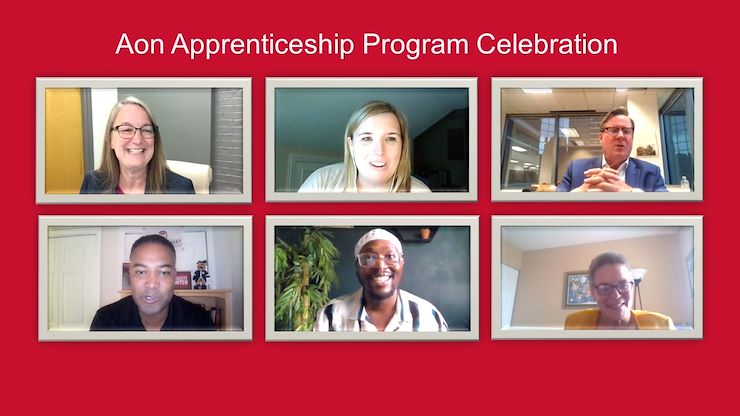 Montgomery County Community College and professional services firm Aon plc (NYSE: AON) are celebrating a new apprenticeship collaboration that will help students get an advanced start on developing their careers while earning their associate degrees.
"Professional apprenticeships like this model provide an opportunity for students to establish careers that provide family-sustaining wages, creating an inclusive economic recovery for our communities, while providing employers with the talented, skilled workforce needed to be competitive in the global market," said Dr. Victoria L. Bastecki-Perez, MCCC President. "We are delighted to celebrate this valuable relationship with Aon."
Aon's U.S. Apprenticeship Program in the Greater Philadelphia region is a two-year program that combines on-the-job learning experience at Aon with in-school classroom learning at MCCC. As an "earn-while-you-learn" model, Aon pays apprentices a salary and benefits, and covers tuition, books and fees as apprentices pursue their associate degrees. Aon launched its U.S. apprenticeship program at its Chicago office in 2017 with an initial cohort of 26 apprentices.
Aon has since expanded the program to Philadelphia, as well as Houston, Minneapolis, New York, Northern California and Washington, D.C. For the Philadelphia program, Aon apprentices work at one of Aon's regional offices located in Philadelphia, Radnor and Ft. Washington, while attending classes.
"We've grown Aon's program from 26 to more than 100 in the most recent cohort," said Meghan Parilla, Vice President of Global Early Careers – Apprenticeships at Aon. "That growth wouldn't be possible were it not for the apprentices themselves. They are exceptional employees and colleagues."
Upon successful completion of the two-year program, graduates will earn their associate degrees from MCCC, receive a U.S. Department of Labor certification and obtain an offer for a full-time, permanent position at Aon. Students must maintain good academic standing and meet all Aon performance standards at work for completion.
"Talent is equally distributed among Greater Philadelphia's workforce," said Marc Armstrong, Managing Principal at Aon. "But opportunity, college degrees, access to corporate careers – these are not equally distributed. Apprenticeships allow us to tap into the full breadth of talent and ability present here in Philadelphia and lower barriers to family-sustaining careers. MCCC has been crucial to the effort in helping to expand the program here. I hope to see more local employers adopting this model."
According to the U.S. Bureau of Labor Statistics, the U.S. job market is facing a severe skills gap in which employers have plenty of job openings but workers are lacking the skills needed to fill those jobs. Aon's U.S. Apprenticeship Program makes it possible for students to learn on the job to attain those skills while earning their college degrees.
"By removing financial barriers and providing full access to career training, support and employment, the relationship with Aon proves why MCCC is also a critical workforce and economic partner," said Kenneth E. Lawrence Jr., Vice Chair of the Montgomery County Board of Commissioners. "I am proud of the innovative ways that MCCC continues to build a pipeline of skilled talent that serves our local economy."
MCCC's collaboration with Aon will help to strengthen the workforce in the region.
"Knowing that Aon has a proven track record for developing apprenticeship models themselves while also serving as an apprenticeship outreach ambassador, MontcoWorks wholeheartedly supports this collaboration with Montgomery County Community College," said Jennifer Butler, Executive Director of MontcoWorks. "The College has proven to be an integral part of our workforce system here in Montgomery County and has risen to the challenges presented to all of us by COVID-19. I am proud to be part of this program and commit to support its development as we all move forward to a vibrant and equitable recovery here in Montgomery County."
MCCC's first cohort of eight students began employment at Aon in August and started classes at MCCC this fall toward their Associate in Science degree in Liberal Studies. Apprentices dedicate a combined 40 hours per week working at Aon and attending classes.
Norristown native Khalil Bullock spent five years in retail, growing from a sales styles to a talent manager – and leverages his talent management skills in his Aon apprenticeship role in HR. Even a few months in, he said, "The impact has been monumental. The entire experience is centered in community and growth."
In addition to their classroom work and learning skills for their role, students participate in professional development through Aon's U.S. Apprenticeship program to enable them to thrive in and acclimate to a corporate environment.
Find more information about Aon's U.S. Apprenticeship Program here. Employers interested in launching similar programs can review the apprenticeship playbook or email Apprenticeship@Aon.com.
About Aon
Aon plc (NYSE: AON) exists to shape decisions for the better — to protect and enrich the lives of people around the world. Our colleagues provide our clients in over 120 countries with advice and solutions that give them the clarity and confidence to make better decisions to protect and grow their business.
Follow Aon on Twitter and LinkedIn. Stay up-to-date by visiting the Aon Newsroom and sign up for News Alerts here.