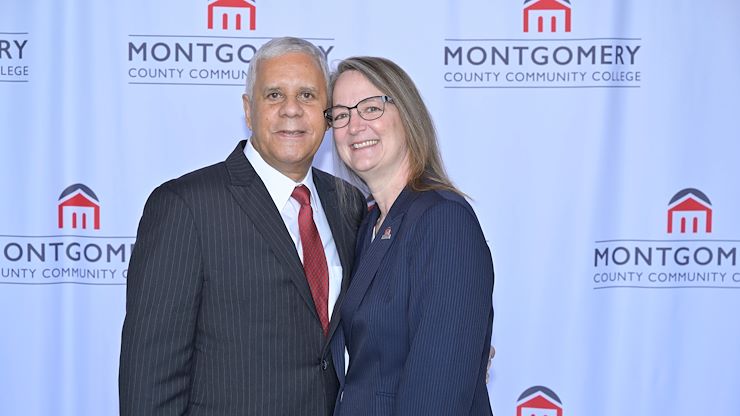 In honor of the inauguration of its sixth president, Montgomery County Community College Foundation recently established 11 new presidential scholarships for students, with a focus on first-generation college students. In the 2021-2022 academic year, three of these scholarships will be awarded.
MCCC President Dr. Victoria L. Bastecki-Perez and her husband, Santos created the first scholarship. As first-generation college graduates, establishing this scholarship was personally important to them because they understand the impact higher education has had on their lives.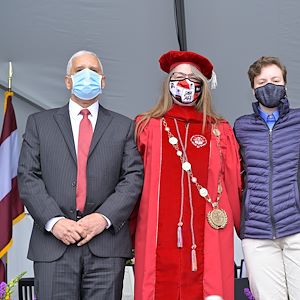 "As first-generation students ourselves, it was important to my husband and me to lend a hand to future generations of students like we were," said Dr. Bastecki-Perez. "A quality education, like the one students receive each day here at Montgomery County Community College, opens the door for each of them to achieve their dreams. It is our honor and privilege to establish the first of these presidential scholarships."
The MCCC Foundation's initial goal was to create six scholarships to coincide and honor Dr. Bastecki-Perez's inauguration as the College's sixth president this past spring. However, as so many generous philanthropists were inspired by this call to action, an additional five scholarships have since been established. In addition to three distinct scholarships sponsored by the Todi Foundation, the remaining presidential scholarships were made possible from sponsorships by the Kunze Family, the Scott and Susan Bentley Fund, the Dental Hygiene Advisory Committee, Robert H. Erb, the Estate of Alma Jacobs, Ken Baker and the Phoenixville Community Health Foundation.
"The Foundation is extremely excited about the Presidential Scholarships initiative," said Joseph Gallagher, Foundation Board Chair. "This is a big step forward in directly addressing the needs represented by Montco's student population, which includes first-generation scholars, full-time workers, single parents, and veterans, to name a few. Seeing so many generous people step up to join in this initiative– it really illuminates the partnership between the community and our students."
Each scholarship has a preference to support first-generation learners but may also benefit students from certain academic programs, campus location, economic or social backgrounds, and more. These scholarships are endowments, meaning they will continuously grow, providing much-needed funding for deserving students in perpetuity. Each year the selected students will have the opportunity to meet their sponsors as well as Dr. Bastecki-Perez at a meet and greet event as well as receive a certificate for the prestigious scholarship.
Students benefiting from the new scholarships say it helps lift a heavy weight off their shoulders.
"I'm really happy about it. It's helping me a lot," said Jessica Hille, a first-generation student, from Douglassville, Berks County, who is the recipient of the Dr. Bastecki-Perez Presidential Scholarship sponsored by The Dental Hygiene Advisory Committee. "Having the extra money I'll need to pay for my board certification exams is beneficial. Rather than spending over 100 hours studying while also trying to work and come up with the money to pay for the tests, this scholarship gives me the opportunity to find the time to study for exams and pass my boards the first time."
"By awarding me the Dr. Bastecki-Perez Presidential Scholarship, you have lightened my financial burden. It has allowed me to focus more on school, and the most important aspect of school, learning," wrote Selena Lopez, of Pottstown, in her thank-you letter. Lopez is also a first-generation student, who received the scholarship sponsored by the Scott and Susan Bentley Fund. "Your generosity has inspired me to achieve more than I thought was possible for myself. I hope someday I can help students and members of the community the way you have personally helped me, because it all starts somewhere."
Since 1983, the MCCC Foundation has provided scholarships for deserving students, grants for faculty projects, equipment and technology, emergency funds for students in need, support for cultural enrichment activities on campus and financial resources for other college programs and activities.
MCCC awards over 500 scholarships a year to students. In addition to College scholarships, there are numerous external scholarships available. Most scholarships do not require a separate application, provided a student files for the Free Application for Federal Student Aid (FAFSA). For more information about scholarships and awards, visit the landing page.
To learn more about the Presidential Scholarship Initiative and its generous sponsors, visit the landing page.