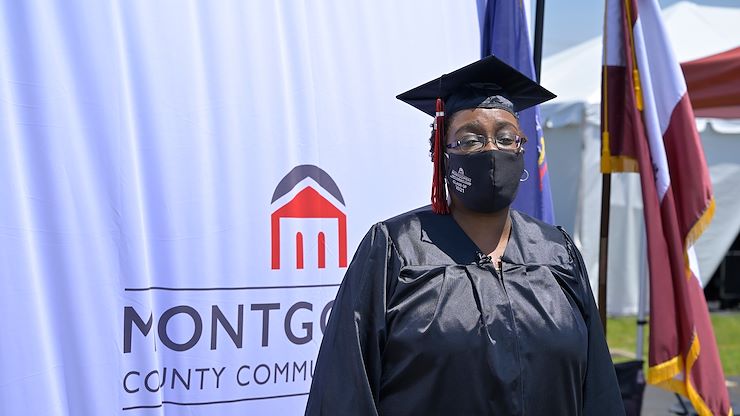 When Annamarie Parker crossed the stage at Montgomery County Community College's Commencement ceremony to receive her associate's degree in liberal studies this year, it was the completion of a journey over a decade in the making.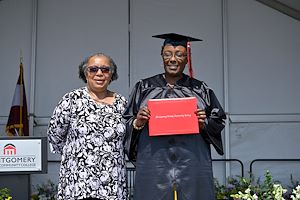 Parker, 57, of the East Falls section of Philadelphia, is legally blind. In 1999, she was diagnosed with myopic degeneration, a severe form of nearsightedness that prevents her from seeing out of the center of her eye and blurs her peripheral vision.
That's why the decision to go back to school part time was not an easy one to make. In addition to balancing her responsibilities as a senior supervisor with VisionCorps contract management services group, it meant long nights she would need to spend completing assignments, and overcoming numerous other accessibility hurdles that would stand in her way.
So, when it came time to finally be able to put on her cap and gown, Parker was all smiles.
"I'm just so excited about finally getting my degree," she said. "I'm proud that I never gave up on myself."
Parker had made it as far as she could in the working world without a degree. She had experience as a copywriter, head of purchasing, credit analyst and in contract management, among other things. Yet when she took the job at VisionCorps — the Pennsylvania-based nonprofit, which empowers individuals who are blind or vision impaired to attain independence — she decided to go back to school for her degree. Her goal of working for the federal government someday required a degree. She often said that if she had to go back to school, she needed to make sure it was something that she wanted to do.
In 2011, she enrolled at a local college. The experience was challenging for her, and not just because of her disability. Early into her collegiate career, her mom was diagnosed with cancer. Parker sometimes had to call out from class to take care of her.
Ultimately her mom died from the disease. Parker thought about dropping out but decided to keep going. "My mom knew I was in school, so I had to finish," she said.
Parker also faced accessibility issues in school. For example, in order to read, she uses a screen magnifier called ZoomText, which enhances everything on your computer screen, along with a 27-inch monitor and a white board to complete her assignments from her desk at home. Certain textbooks however wouldn't necessarily work with ZoomText, particularly in math. Parker felt like she wasn't getting the support she needed to succeed.
In September 2019, she decided to transfer to MCCC as a business major. She'd later change to a liberal studies major. In her research into MCCC beforehand, she'd learned about Alicia Weiss, Director of Disability Services.
"Annamarie had contacted me to let me know she had experienced difficulties with accessibility. Math in particular was proving to be an impasse to earning her degree," said Weiss. "Because I not only 'do' disability services, but have training in the accessibility field and document remediation, and have worked with many blind students, I was confident we could make this work for her."
The two women met in January 2020 to come up with a plan for how to best serve Parker's needs.
"I found her bright, delightful and an ideal active participant in her educational and accommodative process," said Weiss. "She was mature, very informed about her needs and could articulate beautifully for me what her barriers had been in the past."
With an accessibility plan in place, Parker quickly noticed an improvement in her overall college experience. In one of her first math courses, she told her professor about her issues with ZoomText and certain textbooks.
"He said, 'OK, I'll just give you other questions to work on,'" said Parker. "I got an A+ in the class. Every professor has been very accommodating. I earned my own grade but they've been very understanding and accommodating."
At Montco, Parker said she received the help she was looking for, but also had to work twice as hard as her classmates to earn her degree. For example, in her accelerated marketing course, her professor was kind enough to give her an extended deadline for her tests and assignments, but Parker still had to get them done. That meant routinely working into the early morning hours and getting very little sleep before getting up the next morning to go to work.
"I had no choice. I had a will to do it," she said. "As long as you have a will to do something, you're going to do it. I tell you I had those conversations with the Lord some nights but things got done."
"In an ideal and equitable universe that recognizes disability as an aspect of diversity and inclusion, Annamarie never would have had the challenges she experienced here and elsewhere," said Weiss. "We were able to help her when barriers arose. Just as it takes a village to raise a child, it takes a college to promote accessibility. I wish her heartfelt congratulations. I am grateful to have been able to work with her and get to know her."
Parker plans to continue her education at a four-year institution next but hasn't committed to a school just yet. She wants to do her due diligence to make sure it has a disability services department that rivals MCCC's. Ultimately, she'd like to land a position as a contracting officer in the federal government.
With her degree in hand, Parker said she looks back at her decade of life in college in awe.
"If I had to look back on it, I don't know how I did it," she said. "The last 10 years but for the grace of God. That's all I can say."