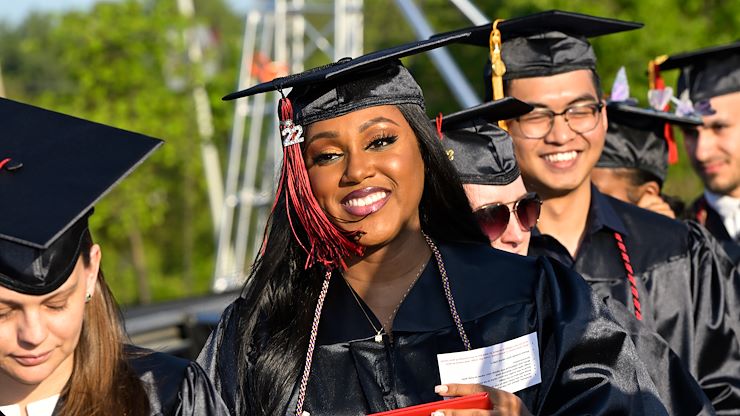 The holiday season is the perfect time to support the future success of students at Montgomery County Community College by giving the gift of a donation.
The College's Foundation is hosting the fourth annual Day of Giving on Founders' Day, Thursday, Dec 8. This year's goal is to raise $5,800 during this 24-hour challenge to celebrate MCCC's 58th anniversary. Each year, alumni, friends and family make Day of Giving an unforgettable event. To donate, visit the landing page.
"We appreciate the help we've received in the past to reach our goal," said Executive Director of the Foundation Jay Browning. "We hope with the way Day of Giving is set up this year, donors from previous years will have another opportunity to support something specific that they're passionate about."
Unlike in the past, where donors had one option where their gift would be delivered, this year through crowdfunding sites they can choose from a menu of eight different options to direct their gift to the College.
The eight options include: Blue Bell Campus General Scholarships Fund, Pottstown Campus General Scholarships Fund, Blue Bell Campus Student Technology Fund, Pottstown Campus Student Technology Fund, Blue Bell Campus Student Emergency Fund, Pottstown Campus Student Emergency Fund, the Student Wellness Center Fund and/or the Athletic Excellence Fund.
Also new this year is the Student Impact Challenge. Student donors will be given the ability to launch fundraising pages and ask for support from their network of friends and family to donate to their individual pages directly.
"They can use their page's link to send out in text message, email, or on social media to encourage loved ones to donate on their behalf," said Browning. "Smaller gifts make a big impact. Donors on Day of Giving have been very generous over the last four years and have helped us to exceed our goal. We appreciate all the support we can get to ensure the wellbeing of our students for years to come."
For full details about Day of Giving or to donate, contact the Foundation or call 215-641-6324.
Established in 1983, the Montgomery County Community College Foundation provides: scholarships for deserving students, grants for faculty projects, equipment and technology, emergency funds for students in need, support for cultural enrichment activities on campus and financial resources for other college programs and activities. The Foundation is able to make a difference in the lives of our students thanks to the generosity of alumni, parents, community friends, private foundations and corporations.