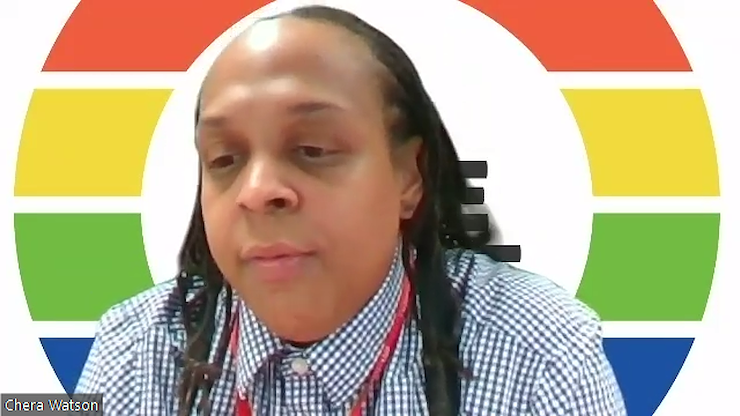 The final session of this year's "Racism in America" series focused on the role of media and the intersectionality of race and gender.
"When we think about the role of the media, it's the construction of reality," said Chera Watson, Mass Media Studies and Production Instructor. "The focus is on the reality-shaping nature of representation. What we see on television, the internet, movies all shapes how we see culture, how we see the things we're being shown on television."
Three stereotypes of Black women in particular have become commonly used tropes in media including the mammy, or the Black woman nurse of white children or serving a white family; the Sapphire, or the angry Black woman; and the Jezebel, or the overly promiscuous, sexually manipulative Black woman.
Depictions of the Mammy stereotype can be traced back to Haddie McDaniel's role in "Gone with the Wind" and can be seen more recently with actor Martin Lawrence's character in "Big Momma's House," actor/writer/producer Tyler Perry's "Madea" series of movies and TV shows, Monique's character in the film "Precious" and actress Octavia Spencer's character in "The Help."
The Sapphire stereotype can be seen on "Sanford and Son" with the Aunt Esther character, portrayed by actress LaWanda Page; Dr. Miranda Bailey, portrayed by actress Chandra Wilson, on "Grey's Anatomy;" and Annalise Keating, portrayed by actress Viola Davis, on "How to Get Away with Murder." Those last two characters/shows were created by executive producer Shonda Rhimes, Watson noted.
Lastly, the Jezebel stereotype, can be seen through the Olivia Pope character played by actress Kerry Washington on "Scandal," (another Shonda Rhimes production) and the Winona Woods character played by actress Ja'Net Dubois on "Good Times."
"They are considered to be shameless," said Watson, "and morally unrestrained."
These three stereotypes symbolize the intersectionality of many different issues including race, gender, sexual orientation, social status and ethnicity.
"Intersectionality is a lens through which you can see where power comes from and collides. Where it interlocks and intersects," said Watson. "It's not simply a race problem here, a gender problem, a class problem, an LGBT problem – all of these things are intersecting. They coincide with each other."
Watson said it was imperative for viewers to challenge covert, racist depictions of Black women and begin to ask, "who's telling the story?" This is where white privilege and the patriarchy come into play. In most cases, media is run by major corporations, which are run by white men They have the final say as to how characters are depicted on their media channels.
Watson believed the antidote to this problem was to empower Black women and people of color to represent themselves. Films like "Black Panther," "Moonlight," and TV projects like "Atlanta" and "Insecure" are proof that there is a wide audience for many different voices.
"This is no longer a moment or movement. We want it to be the norm," Watson said, quoting actress Lena Waithe. "We should have been at the forefront. White folks have everything. We still have a lot to do to catch up."
The Richard K. Bennett Distinguished Lectureship for Social Peace and Justice is supported through an endowment made from the William Penn Foundation through the Bennett Fund of the Montgomery County Community College Foundation. The entire series is sponsored by The Black Reserve Bookstore.