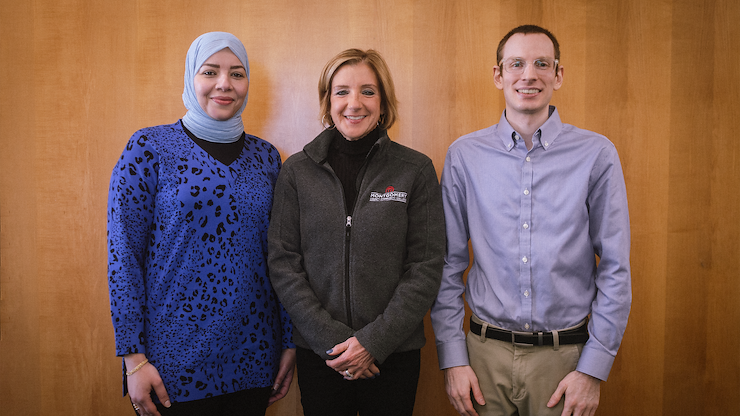 Two institutions with a knack for cultivating home-grown talent through elevating existing team members and hiring recent graduates won the 8th annual Tambellini Technology Leadership Awards for their remarkable successes in streamlining and enhancing the user experience for their campus communities.
The Enterprise CRM team at Montgomery County Community College in Pennsylvania, led by Mary Beaver, Director of Enterprise Software Systems, earned the Innovative Team Award, and Brad Rohrer, the CIO for the University of Miami, won the 2023 CIO Award.
"Both the University of Miami and Montgomery County Community College are inspiring examples of dedication and resourcefulness to get the job done," said Vicki Tambellini, CEO and Founder of Tambellini Group.
"Technology teams in many industries are being challenged in the current work environment, but the leaders at these two institutions succeeded by investing in the growth and development of their teams."
As the world's leading independent technology research and advisory firm dedicated solely to higher education, Tambellini Group created the Technology Leadership Awards to celebrate IT teams and leaders for their excellence in driving transformative modernization efforts.
Innovative Technology Team Award: Montgomery County Community College
As director of MCCC's Enterprise Software Systems, Mary Beaver faced a dilemma common among leaders charged with evaluating CRM options: should her team buy a ready-made platform or build their own?
While spending on the former would be the easier solution, Beaver and two members of her six-person team (four of whom are MCCC alumni) decided to take the more ambitious route and build a customized system using the Microsoft Dynamics platform to serve their community's unique needs.
"It was such a huge undertaking, and sometimes we felt really alone on this journey because we didn't have a lot of peers who took on a project of this magnitude," said Beaver. "I am so very proud of our CRM team, which includes two MCCC alumni, Marwa Dwidar and Andrew Rosner. Winning this award validates their commitment and success in making the student experience better every day."
A 30-year employee of the College, Beaver holds an accounting degree and started working at the College as a supervisor of Accounts Receivable in the Finance Area.
"However, my interests also were with figuring out how systems worked, creating process improvement through their functionality and figuring out why they may not work as expected," said Beaver, who worked closely with the IT Department when it transitioned to Ellucian's Colleague SIS system. When a programmer/analyst position became available in IT, she applied and was hired.
Rosner, who is the lead software developer, is a graduate of MCCC and a former student worker in the IT Department. The College's IT help desk is fully staffed by student workers, which provides them with hands-on learning experiences, a practice that MCCC incorporates throughout its programs.
"Andrew's technical leadership allows us to do many projects inhouse instead of outsourcing," Beaver said. "For the Enterprise CRM project, Andrew provided the technical leadership and guidance regarding the integration, security, and custom development needed for the platform."
Dwidar, CRM Systems Specialist, is a 2021 graduate of MCCC. As a student, she was an active member of the IT Department's Women in Science and Technology (WIST) group. WIST's mission is to be a resource to female-identifying students and encourage retention and completion in the STEM fields.
During her first year of employment, Dwidar became a Microsoft Certified: Dynamics 365 Customer Service Functional Consultant Associate by obtaining two certifications: PL-200 Microsoft Power Platform Functional Consultant and MB-230 Microsoft Dynamics 365 Customer Service Functional Consultant.
The other members of Beaver's overall team include Nina Xu, Project Leader Administrative Systems who has been with MCCC for 25 years; Robert Vogel, Senior Software Developer and MCCC alumnus; Kimberly Liberty, Enterprise Software Analyst; and Julio Ashrafzadeh, Enterprise Application Analysist and MCCC alumnus.
MCCC's IT Department is led by Dr. Celeste Schwartz, Vice President of Information Technology & Institutional Effectiveness. Schwartz also is a MCCC alumna and has worked at the College for more than 50 years.
Before building their own CRM system, attempts to manage student support inquiries through shared email inboxes spread over various departments had been inefficient, frustrating, and nearly impossible to track. The pandemic compounded this challenge, along with issues related to coordinating institutional communications with students.
Beaver's team has dramatically improved student case management and automated communications, even meeting their stretch goals ahead of their deadline:
Streamlined Processes: Migrated case management for Enrollment Services, Records and Registration, Parking, Student Services Resource Center, and Information Technology teams to the CRM platform, with plans for expanding capabilities to the President's office and beyond.
Quicker Results: Processed and resolved 16,000 cases.
Data Transparency and Reporting: Development of dashboards to monitor case numbers and status from inception to completion, along with data collection and analysis capabilities to track outcomes and improve efficiencies.
Communications Improvement: Student communications journeys for retention, success, engagement and completion are in development, including integration of the Signal Vine SMS platform and Pathify web portal.
CIO Award Winner: Brad Rohrer, University of Miami
Ever since Brad Rohrer started as a network specialist at the University of Miami in 1997, his career at the institution has progressed and evolved as swiftly as the many cutting-edge technology initiatives he has led during his 25 years of service.
"I'm honored and happy to win this award, but I'm also humbled," said Rohrer. "None of what I've been able to do would have been possible without such a talented and dedicated IT team. This tremendous recognition is a testament to their hard work and accomplishments."
In his combined 12 years as deputy CIO and CIO, Rohrer has focused on elevating the customer experience and supporting the career growth and development of his approximately 260-person team.