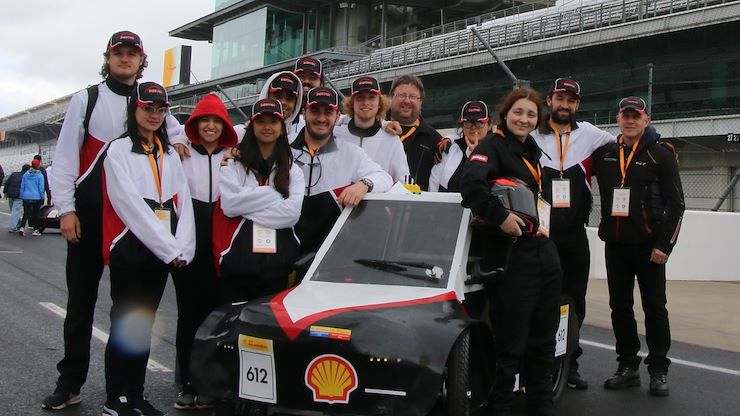 Twenty Montgomery County Community College Engineering students working on project INNOVA- a hydrogen fuel cell-powered urban concept vehicle- placed second in its category at the Shell Eco-Marathon Americas 2023 regional competition at the Indianapolis Motor Speedway April 12-16.
The students, led by Engineering Professor William Brownlowe and Technical Advisor Griff Francis, competed against teams from North and South America in the annual "global academic program that challenges talented students to design and build cars, considering technical and behavioral factors to achieve game-changing energy efficiency results," according to its website.
The project INNOVA team includes MCCC students Franzine Bagalawis, Philip Charron, Katherine Cocar, Joe DeFazio, Eric Fisher, Ben German, Nophir Harrell, Paul Jacobs, Gabriella Joella, Rob Kay, Nathan Mayer, Gerald Moss, Tom Quinn, Andrew Rubenstein, Claudia Savella, John Schuhl, Shawn Sherwood, Dominic-Evon Torres, Sabrina Turner and Melody Welsh.
"Just being there, being at the Brickyard at Indy, the granddaddy of racetracks in the U.S. and working in the same garages as the Indy car teams do," said Brownlowe of the experience, "it was huge."
Following a rigorous inspection, the Innova Car was tasked with completing four laps around the 2.4-mile looped inner track of the motor speedway in less than 35 minutes. The goal was to determine which car had the best fuel economy, but cars also needed to maintain a minimum speed. The Innova car was able to complete the course with 30 seconds to spare, explained Francis.
The final competition was for the best car in each category. Nine cars competed and, based on a car's previous runs, each team was allowed a certain amount of fuel. Unfortunately, the Innova car wasn't able to complete the course with the allotted fuel it was given.
"However, the only other fuel cell team that qualified for the event, did not get off the start line," said Francis.
From a technical standpoint, the Innova car passed its rigorous inspection, but the competition exposed a big weakness.
"Technologically, our car is good," said Brownlowe. "Aerodynamically, it's not."
Racing the car on the inner track showed the car could not stand up to strong wind resistance, he said.
"You're getting buffeted around and you know if you're getting buffeted, you're losing energy," Brownlowe explained. "Our aerodynamic signature was horrible, and it was killing our mileage. When you have this little power to move you along, you've got to use quite a bit of fuel to keep things going."
Still, Brownlowe was incredibly proud of his students for their achievement.
"What we were able to accomplish since January, especially with new students who got involved, without each and every one of them, we wouldn't have made it," he said. "Everyone was mission critical to this. And they all stepped up to the plate and did what needed to be done. I'm very proud of what all of us were able to accomplish."
Overcoming obstacles
The Innova team faced several challenges during its time in Indianapolis, including a few that at first appeared insurmountable. One major hurdle was the fact that the team traveled to the competition with a leaking hydrogen fuel cell, which would have cost nearly $8,000 to replace.
"I had said it before we left," said Brownlowe, "we're not going to make it through the technical inspection with the fuel cell like this."
The competition's technical inspectors suggested a radical workaround to try to help the team solve the problem, but ultimately, it was sportsmanship that saved the Mustangs.
Another team that didn't pass its technical inspection, had an extra fuel cell the Innova team needed to compete and was willing to part with it to help a competitor in need.
"They were initially skeptical. A fuel cell is not something you would readily lend to someone because the knowledge of how to operate and maintain it is critical," said Brownlowe. "You could do what we did to ours, which is damage it. We over-pressurized it. That's what caused it to leak. So, you're pushing a lot of hydrogen out of the cell and you're not even using it. It's like blowing gasoline out your tail pipe, and you're not even burning it."
As a show of thank you, the Mustangs nominated the team for the Shell Eco-Marathon Spirit of the Event Award, which it eventually won, and its members took home a $3,000 prize.
Another issue the Mustangs overcame was the size of its energy storage system, or super capacitor bank.
"So, we encountered, not so much, failures in our design, as shortcomings that were discovered when we got there," said Brownlowe. "We didn't have a supercapacitor bank of any great significance. We noticed that all of the other cars that were in our hydrogen urban concept category had substantial supercapacitor banks. And we didn't."
To keep his team competitive, Brownlowe overnight ordered a larger super capacitor bank.
"The team was ecstatic," he said. "They were so, so happy."
Planning for next year
Because the team was able to pass inspection and compete on the track, students were introduced to a higher level of competition, said Brownlowe.
"Now we know what we're up against for next year," he said. "We're already looking at redesigning the vehicle chassis and body because that's our aerodynamic issue. Each year that we go we kind of see things that get us up into the competitive range of these teams. We want to win first place in our category. If we can do that, we can consistently get into the regional championship round. And if we can place in the top four, we go to World Driving Championship."
To build a new car from scratch for next year's competition, the team will need to fundraise to afford some of the parts. Brownlowe is hoping to raise $25,000 in order to meet the needs of the car. In 2020, Dorman Products, of Colmar, donated $5,000 that ended up helping design this year's car. The team will need similar donations again for next year in order to stay competitive. "We have to replace our fuel cell," he said. "We need two new, we need to do two new bodies, we're going to need new wheels, we need new tires. It's a lot of work."
To contribute to the Project Innova, consider donating to The Montgomery County Community College Foundation. Established in 1983, the Montgomery County Community College Foundation provides: scholarships for deserving students, grants for faculty projects, equipment and technology, emergency funds for students in need, support for cultural enrichment activities on campus and financial resources for other college programs and activities.
To learn more, contact The Foundation at 215-641-6324 or foundation@mc3.edu.