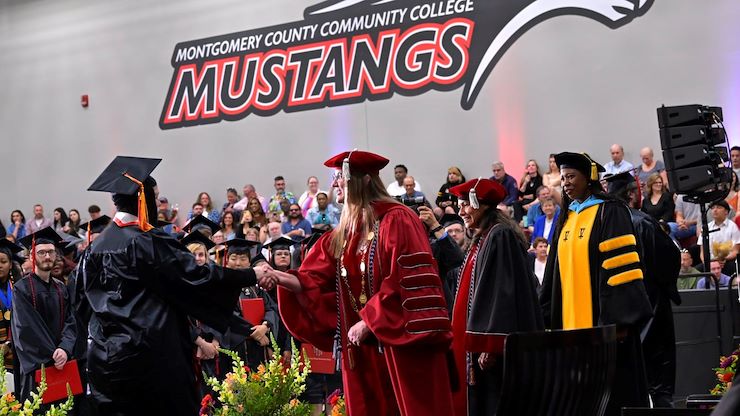 From the youngest graduate at age 18 to the oldest at age 73, the members of Montgomery County Community College's Class of 2023 were in full celebration mode during the three ceremonies held May 18 in the gymnasium of the College's Health Sciences Center on its Blue Bell Campus.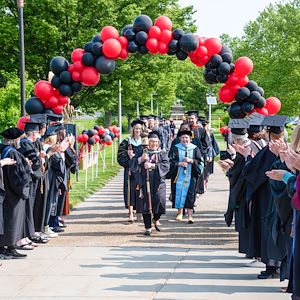 The 56th Commencement ceremonies returned to a more traditional format after being held as drive-in ceremonies from 2020 through 2022 due to the pandemic. This year, each ceremony started with a procession of graduates walking from College Hall into the Health Sciences Building with faculty and staff lining the pathway and applauding.
As the ceremonies began, Dr. Victoria Bastecki-Perez, MCCC President, congratulated the 1,287 graduates of the Class of 2023 who collectively earned 1,330 degrees and certificates.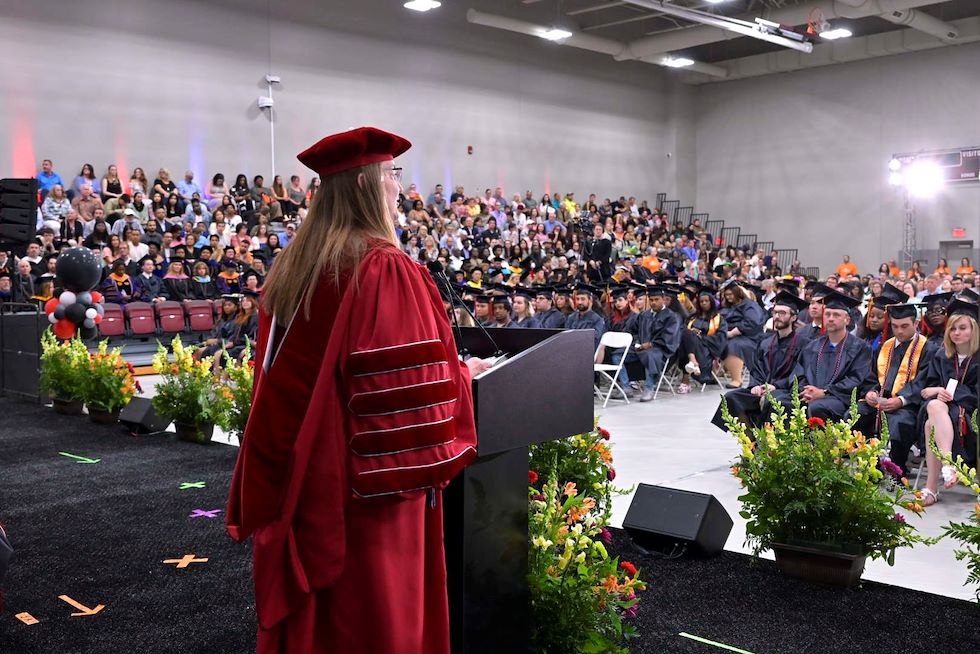 "Graduates, when you cross this stage today, you should feel proud and confident knowing that you are well prepared to inspire, lead and transform the world," said Dr. Bastecki-Perez. "As you take your next steps, remember to be kind. Show empathy. Reach out to help others. Lead with integrity. And, most importantly, be your authentic self by being true to your individuality and values."
MCCC Board of Trustees Chair Varsovia Fernandez congratulated the graduates and encouraged them to continue the next steps in their journey.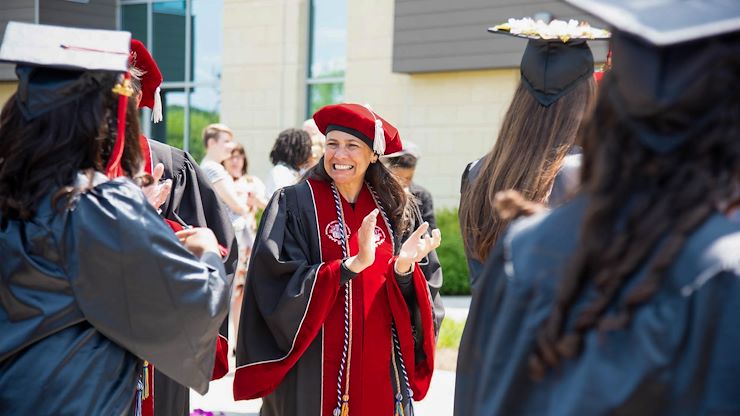 "Education, as you have discovered, extends well beyond the classroom and your career—it is a lifelong endeavor," said Fernandez. "Education also advances equity, opportunity and social justice. As you go forth, I encourage you to get involved, be active in your communities and know that you have the ability to make a positive difference.
Kenneth E. Lawrence, Jr., Chair of the Montgomery County Board of Commissioners and 2019 MCCC alumnus; Joseph Gallagher, Chair of MCCC's Foundation Board; and William Vitiello, Chair of MCCC's Alumni Board, presented messages of congratulations and inspiration through video presentations.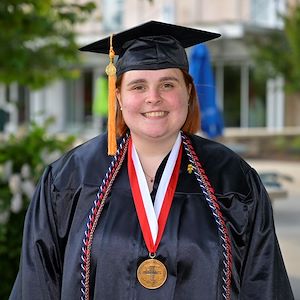 This year's student speaker, Grace McGinnis, of Bryn Mawr, spoke about discovering her passion for caring for young children and deciding to pursue her associate degree in Education in the Early Years, despite the fact that she had previously dropped out of college and believed it wasn't for her.
"I was constantly surprising myself with my accomplishments. I didn't know that I was capable of doing this, let alone doing it well," she said. "I was even more shocked when I realized I had managed to maintain a 4.0 GPA. I was inducted into two honors societies, and I received the Dr. Victoria L. Bastecki-Perez Presidential Scholarship Award.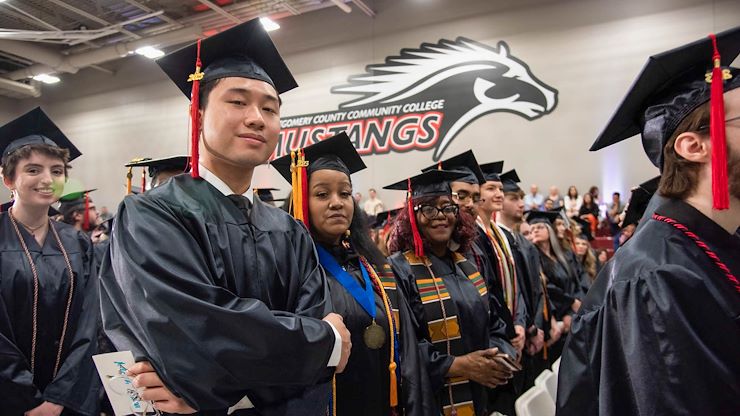 "I'm not here to brag and list all of my accomplishments. But I am here to tell you that this is for me," she said. "Montgomery County Community College made it possible for me, as a first generation, financially independent, non-traditional, and queer student to graduate college."
In her video-recorded speech, she noted that most of her classmates have comparable stories and challenges, and that all of them navigated going to college during a global pandemic.
"And many of us have been told 'college is not for everyone,'" she said. "But look around. You're at your college graduation. We made it here despite our obstacles."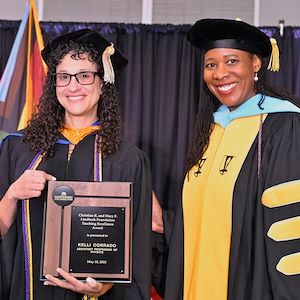 Beyond celebrating the graduates and their accomplishments, the College presented the Christian R. and Mary F. Lindback Foundation Award for Teaching Excellence to Kelli Corrado, Physics Assistant Professor.
Students who nominated Corrado described her as "going above and beyond," often making herself available outside of class to answer questions or provide tutoring. They complemented her teaching style of explaining materials in multiple ways and using objects and visual aids throughout her lecture. Students described her as "an inspiring and generous teacher."
In addition to the Lindback Award, MCCC presented the Part-Time Faculty Teaching Excellence Awards sponsored by eCampus Bookstore to Thomas Costello, Management Senior Lecturer, and Susan Lawrence, Psychology Senior Lecturer.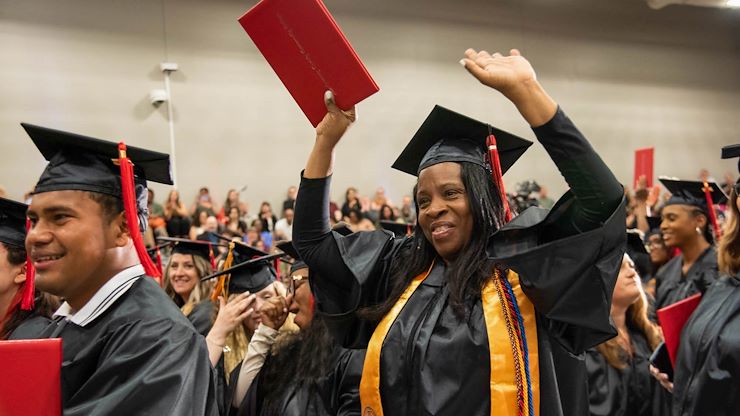 Before each ceremony, families and friends watched the video of the Class of 2023 original song, "G R A D U A T E." The words and music were written by student Lucas Challes, and it was performed by Marly-Chelsea McElerea with the help of David Ivory, Director of Sound Recording and Music Technology; Michael Kelly, Assistant Professor of Music; Josh Crew, announcer; Nate Leslie, engineer; Quinn Szentz, engineer; and Matthew Porter, Senior Producer and Technical Services Manager. Faculty and staff members Sarah Kane, Ron DiSilvestro and Howie Gordan also assisted with the production.
All three ceremonies were livestreamed and are available on the website.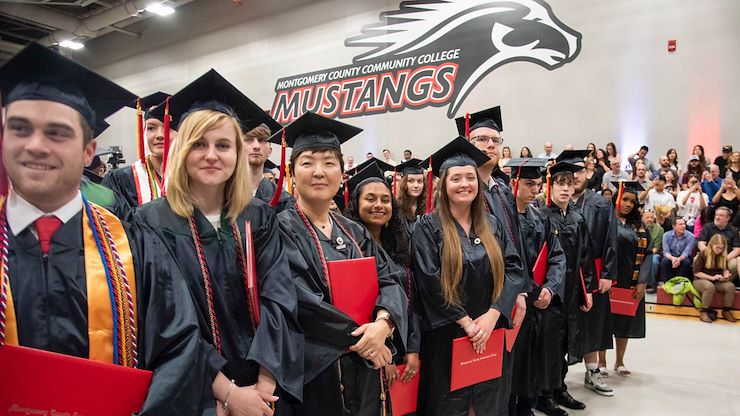 See more photos on MCCC's Facebook, Instagram, LinkedIn and Twitter accounts.