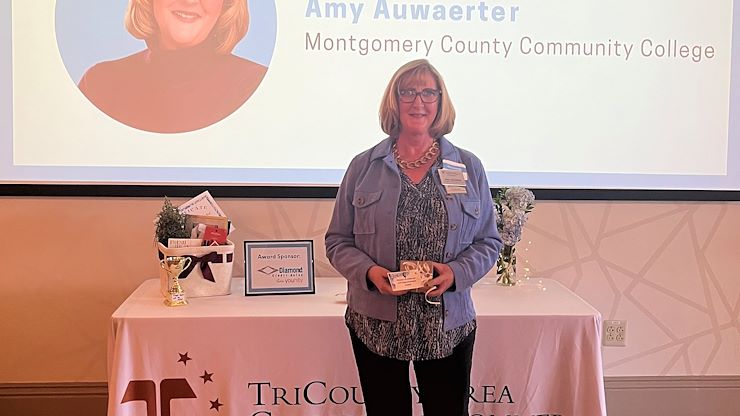 The TriCounty Area Chamber of Commerce has awarded a Montgomery County Community College employee as its REACH Woman of Influence and Empowerment.
The organization's REACH committee selected Amy Auwaerter, Director of Pottstown Campus Operations, from its nominations and celebrated the award during its third annual REACH conference Thursday, Nov. 9.
"It's very exciting," said Auwaerter on the award. "I had no idea."
The REACH Woman of Influence and Empowerment award recognizes a business professional who has a presence in the region and "leads by example with courage, confidence, commitment, and integrity to empower those around her, and makes an impact in her community," according to the award's nomination application.
Among the other criteria include "being a team player and active mentor who paves the road to empower women into leadership roles, inspires other women to follow in her footsteps, an ambassador for women through her extraordinary dedication, personal achievements, and service to others through mentorship, philanthropy, and business," according to the application. Additionally, the recipient is an "advocate for women, who leads by example to make an impact in the lives of other women through her work, has a presence within the tri-county region, this includes southeastern Berks, western Montgomery, and northern Chester Counties, as well as along the Route 422 Corridor, and their employer must be a member in good standing of the TriCounty Area Chamber of Commerce."
Auwaerter currently sits on the board of directors for the TriCounty Area Chamber of Commerce. A separate committee chooses the REACH Woman of Influence and Empowerment award recipient from submitted nominations.
Auwaerter also volunteers on the Pottstown Go Fourth Festival board of directors. She previously served on the board of directors for the Green Valley Watershed Association.
A 2022 runner up for The Mary Bethune Education Award by the YWCA Tri-County Area, Auwaerter has been an employee at the College for seven years and worked previously in pharmaceutical sales for 23 years. Her philosophy in sales is the same one she has today on working in higher education.
"I didn't sell," she said. "I would educate prescribers on what was most appropriate for the patient. It's the same philosophy in higher education. If we show prospective students the opportunity they have in higher education, then we don't need to sell them on Montco. If they come for the right reasons, then they'll get the most out of it."
Auwaerter believes in demonstrating leadership by example and finding ways to be a servant leader, to support the needs of her team.
"I give my team the skillset to do the job well and enjoy doing it," said Auwaerter, who lives in Berks County. "I want to want to be there, I want my staff to want to be there and for students to want to be there. If you get all three together, you get a much more positive experience."
At MCCC, Auwaerter been a driving force behind promoting and expanding the College's food pantry. The goal was to expand the program to make it more available to a greater number of students.
"The food pantry has been a passion project for me," she said previously. "When I first started to get involved with the food pantry it was in a cabinet. Now it's gone well beyond that." The food pantry is now a feature of the Wellness Center, under the leadership of Dr. Nichole Kang, Wellness Center Director, with Auwaerter's continued support.
Auwaerter also has witnessed many other recent improvements to Pottstown Campus including the Challenger Learning Center at Montco Pottstown and the renovations to South Hall.
"The Challenger Center has had a dramatic impact not just on campus but the Pottstown community, focusing on middle school students and STEM-based curriculum." Auwaerter said it's exciting to feel the energy of youth in the building.
"When you realize the noise is excited 5th-8th graders over science curriculum," she said, "it warms your heart. Challenger is a state-of-the-art facility that has opened a whole new world for students. I'm extremely proud. Kevin Orangers, Director of Educational Engagement & Innovation, is amazing and built a strong team."
Similarly, Auwaerter said the renovations to South Hall have been beautiful. She admired the way students have taken to the space and found ways to use it on a regular basis.
"Every nook has special spot, and it effects students in different ways," she said. "I see more students hanging around and studying. They're coming in to hang at the College before a 6 p.m. class. We're seeing a lot more usage of spaces defined by students."
Auwaerter said the College intentionally wanted students and staff to decide how best to utilize the space.
"It's one of the highlights in the community," she said.
As a member of the TriCounty Chamber of Commerce, Auwaerter has many responsibilities including attending meetings and serving on the education committee.
"The board truly cares about its members," she said, "and its members' experience."
The TriCounty Chamber of Commerce is composed of both large corporations and small businesses, she said, and the Chamber needs to be able to meet the needs of both.
"We try to look at each member's experience and be diverse enough with everything we offer to be of value to all members," she said. "You get out of it what you put in it."
She's most excited to promote the return of the Chamber's Young Professionals' program for adults 18-40. As business professionals in the area begin to age out of the workforce, Auwaerter said it's incumbent to identify and support the next cohort replacing them. She encourages members of her team to attend Young Professionals events when they can.
"Where are the replacements coming from?" she said. "We need to get them to begin to get value from the Chamber during the early stages of their career. They are the future of the Chamber. So, getting them involved with their own group, but also working side by side with everyone else is really a great initiative that I'm not directly involved with other than encouraging our staff."
Auwaerter also makes a point to promote the work of the College during every board meeting, she said.
"There are pretty powerful people sitting around the table," she said, "and it's those relationships and those abilities to be able to connect and network and be able to get the word of the College out to an important group of people. That message can then trickle down to their employees."
Auwaerter thanked everyone at the College for their support, including Dr. Celeste Schwartz, Vice President of Pottstown Campus and Information Technology and Institutional Effectiveness, Jared Brown, Assistant Dean of Academic Affairs at Pottstown Campus and Kevin Orangers, Director of Educational Engagement & Innovation. She also thanked Cindy Whitley, Financial Assistance Coach, and Joelle Oswald, Coordinator of Student Services at Pottstown Campus, who attended the award ceremony with her.
Each likewise had nothing but praise for Auwaerter.
"The entire Montco community is tremendously proud of Amy for this award," said Dr. Schwartz. "She demonstrates on a daily basis a deep commitment to our students, employees and community members. Her work with the TriCounty Chamber reflects that commitment. She serves as an inspiration and role model to a countless number of people who work alongside her every day. On behalf of the College, we all congratulate Amy and wish her continued success.."
"I'd like to give a special congratulations to Amy on the REACH Woman of Influence and Empowerment award! Her support, encouragement, and mentorship over the last two years has helped me to grow both in my career and personally, by allowing me to expand my potential and have confidence in myself," said Oswald. "She instills power, confidence, and knowledge into her staff and those around her. Her example inspires others to strive to be their best selves, while offering support to those around them and working together as a team."
"When I learned that Amy was selected as the recipient of the REACH Woman of Influence and Empowerment award I was beyond excited," said Brown. "Amy embodies the ideals of empowerment, inspiration, and has the qualities of leadership that allows her to be impactful in the surrounding communities. I am proud to work with Amy and support her vision for higher education in Pottstown and in Montgomery County. I could not think of an individual who is more deserving of this recognition for her dedication and contributions she has made and will continue to make in her various roles. I extend a big congratulations to Amy in receiving this honor."
"Amy is the biggest asset to not only the college but the entire community," said Whitley. "She honestly has everyone's best interest at the top of her agenda. She wants everyone to do and be their best and she will help you in any way to get you there. The College is so lucky to have her working here. We all need to be more like Amy, selfless and true."
"I want to congratulate Amy on this prestigious award," said Orangers. "She is an incredible leader, mentor, and colleague to the staff at Pottstown Campus and I can think of no one else more deserving of the honor. I'm extremely proud to call her my colleague and friend and wish her congratulations on this important distinction."