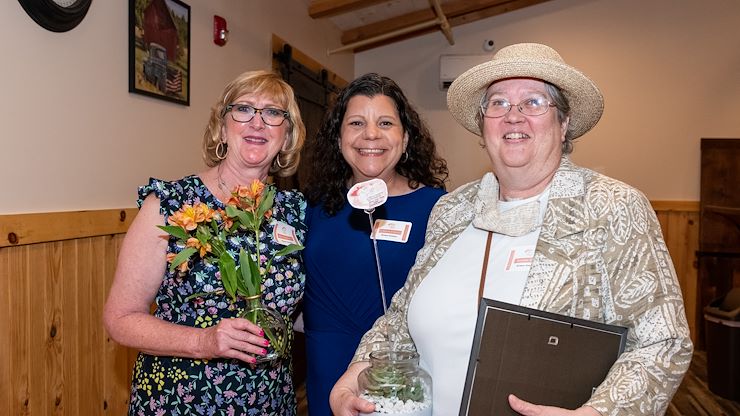 During its 26th annual Tribute to Exceptional Women and Girls ceremony, the YWCA Tri-County Area honored an exemplary group of women for their service to the community, including employees from Montgomery County Community College.
English as a Second Language Associate Professor Barbara Auris received The Mary Bethune Education Award, which recognizes women in public or private education who inspire excellence and innovation. Auris was honored for her work bringing equity in education and career preparation to women and non-native English speakers.
Amy Auwaerter, Director of Pottstown Campus Operations, was named a runner up for the Bethune award, for her community outreach efforts on behalf of the College. Dr. Monica D'Antonio, English Professor and Norristown School Board member, was also nominated for an award.
Tribute to Exceptional Women and Girls recognizes women and girls for their ability to lead by example, embrace community responsibility and demonstrate exceptional leadership in their careers and beyond. Over the past 25 years, YWCA Tri-County Area has recognized more than 200 women and girls for their achievements by inviting community members to nominate women in several categories, ranging from arts and culture to lifetime achievement, according to Media News Group.
Barbara Auris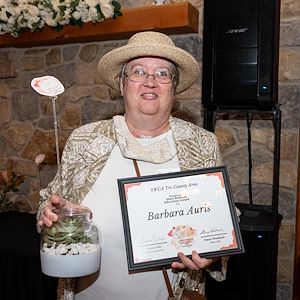 If you were to ask Barbara Auris why she was chosen for The Mary Bethune Education Award this year, she'd more or less shrug her shoulders.
"I said to the audience at the ceremony 'I don't know why I'm here. I'm completely honored and baffled.' I don't feel I've done anything exceptional," she said. "I've had exceptional opportunities and people in my life, who have mentored and guided me." Her parents, for example, instilled the value of an education.
Yet when it came to issues involving equality and equity among women, she wasn't forced to confront them until she joined the Peace Corps in 1990 and began working in the Central African country of Gabon.
"The female drop-out rate is nearly 100 percent," she said. "The culture didn't recognize the value of an educated wife or daughter."
Auris, who grew up in Lower Providence and lives in East Norriton, worked with students to obtain scholarships that would give them money to go to school and pay for their uniforms but also provided a gift to their families, to help them begin to see the financial benefit.
After living in South Africa for five years, Auris came back to the United States shortly after 9/11 and landed a part-time job at MCCC.
"I remember I stepped on campus and felt at home," she said. "I love the feeling of a college campus. I remember reading the announcements on announcement boards and it felt like I was a college student. It had that vibrancy."
Auris interviewed for the position on a Monday, was hired the next day, and started her first day the day after that, she said.
"I sat in the hallway my first week. I had no office," she said. "One of the secretaries noticed me and when I told her I had no office she said 'I'll get you one. And within five minutes, I had an office."
As an ESL professor, Auris teaches students for whom English is often not their native, second, third or even fourth language. Her lessons will include study skills for college as well as cultural cues that may seem obvious to someone born and raised in this country.
"Many of these students are very well educated and highly intelligent," she said. "They just didn't grow up in America or have that cultural background."
For example, one student gave her a momentary? shock when they said their professor seemed very violent. "They said, 'He kept saying 'Three strikes and you're out,''" said Auris, who laughed. "I said, 'OK, let's talk about baseball.'"
Another focus of her lessons is on what she calls academic shock. Students need to understand the differences between academic and casual settings. For example, in "Academic English," as she calls it, officials will more often use prestigious sounding vocabulary to replace more commonly used words. For instance, "initiate" often substitutes "starts" in an academic setting because "it sounds more academic."
"We use the passive voice a lot in academics," said Auris. "We don't say it's clear something happens. We say this suggests it happens. It can feel like a foreign language to everyone until they've learned it."
With the award in hand, Auris said she still can't understand why she's received it, but she's happy to get it all the same.
"I don't think I'm doing anything special," she emphasized. "A lot of people deserve this award. So many people are doing amazing things. So, for the opportunities, my parents, the people in my life for whom I'm thankful, if you want to make a big deal out of this, I'm there for you."
Amy Auwaerter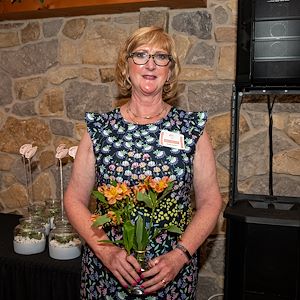 Before she started working at the College six years ago, Amy Auwaerter worked for 23 years in pharmaceutical sales. Her company's mission statement was to "extend and enhance human life."
That's a credo she still follows to this day.
"I want someone to be better because they came to Montco," she said.
Since she was a college student herself, she's been active in the community. During the summer, she'd work as a paraprofessional in the intercity school district in Flint, Mich., where she helped run a program that taught high school students, who were at a third-grade reading level, teach students in kindergarten to read. She'd help reinforce their reading skills while they were teaching the younger students to read and then on Fridays the program would host seminars on how to get a job.
"From day one, I've always been involved somehow in my career," said Auwaerter, who lives in Berks County. "It started back then and before I came to the College, I was active in community organization."
Since she's started at the College, her goal has been to let people know what the College has to offer, especially for the Pottstown community. She currently sits on the board of directors for the TriCounty Area Chamber of Commerce, the Pottstown Go Fourth Festival and the Green Valley Watershed Association.
"Pottstown has a radius of only five miles," she said. "It's amazing how much work and cooperation happens in that five-mile radius. We have a multitude of nonprofits in the area, as well as the College. We feel the College really does sit on the edge of Pottstown and we want to do everything we can to meet the needs of the Borough, by producing students that can take the jobs that are available in the area."
A focus since starting at the College has been promoting and expanding the College's food pantry. The goal was to expand the program to make it more available to a greater number of students.
"The food pantry has been a passion project for me," she said. "When I first started the food pantry was in a cabinet. Now it's gone well beyond that." The food pantry is now under the leadership of Nichole Kang, Wellness Center Director, with Auwaerter's continued support.
The food pantry, she said, is an example of removing a barrier for any student who wants to go to college but just doesn't know how.
"When I go to Commencement and I see certain students that I've helped through their journey of higher education walk across that stage and get their diploma," she said, "knowing that it wasn't an easy road and that I had something to do with them walking across that stage, is really important to me."
Following the nomination for the award, which came as a surprise, she said, she was thankful for the team of people who work with her at the College who came out to support her. She's grateful for the employees who report to her in the Student Services department and tries to do whatever she can to help them be successful.
"My leadership style is a service leader," she said. "They don't work for me. I work for them. I give them the tools they need to do their jobs well. If I don't support my team, students won't get the services they need."