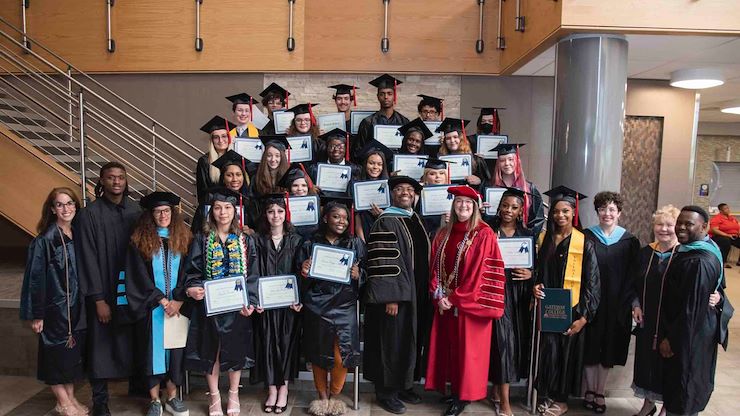 Twenty-three students from eight school districts proudly received their high school diplomas following completion of the Gateway to College Program at Montgomery County Community College. Their families, friends and supporters applauded as they crossed the stage and moved their tassels during the graduation ceremony held on MCCC's Blue Bell Campus on May 24.
"Today's ceremony marks the accomplishment of a significant milestone in your lives and opens the door to many opportunities for you to pursue," said Dr. Victoria L. Bastecki-Perez, MCCC President during her remarks to the graduates. "Whether you are continuing your education, heading into the workforce or developing other plans, you have a solid foundation from your education through the Gateway to College Program."
The Gateway to College Program and its talented faculty and staff help students complete the requirements they need for their high school graduation and earn college credits. Since MCCC launched the program in 2013 at its Blue Bell and Pottstown campuses, 256 students have earned their high school diplomas, transforming their pathways.
Including this year, MCCC's Gateway Program earned the national Achieving the Dream's Program Excellence Award for five consecutive years for its success in helping students reach their goals. Gateway is part of the Achieving the Dream national network that promotes community college reform and student success.
"You all fought your own fight to earn your seat here today: early mornings, late nights, multiple jobs, depression, anxiety, illness, addiction, bullying, isolation, grief. A few of you today are the first in your family to graduate high school. I could not be prouder, and I hope you are proud of yourselves," said Michelle Kulla, Gateway to College Program Manager.
The graduates include Abdellah Antar-Antar, Upper Merion School District; Cameron Burton, Upper Merion; Jessica Ciliberto, Wissahickon School District; Julian DeCesare, Souderton School District; Gia Del Vecchio, Perkiomen Valley School District; Gwyneth Harris, Pottsgrove School District; Jynira Jeffcoat, Phoenixville School District; Khadijah Johnson, Cheltenham School District; Nevaeh Lazarde, Wissahickon; Barbie Lebron, Upper Merion; Teagondior Lofton, Wissahickon; Sahir Lyons, Upper Merion; Isabella McCartney, Perkiomen Valley; Dylan McKeown, Colonial School District; Maura Nolan, Upper Merion; Imani Paige-Miller, Wissahickon; Ashley Pallas, Upper Merion; Andrea Palumbo, Wissahickon School District; Gizzele Pineda, Upper Merion; Rebecca Popejoy, Pottsgrove School District; Richard Seltzer, Pottsgrove; Jada Smalls, Wissahickon; and Phillip Wylie, Perkiomen Valley;
Nineteen graduates will be continuing their education at either MCCC or another college, and four graduates will be entering the workforce.
Special awards were presented to several outstanding graduates. Gizelle Pineda was awarded Most Improved. Gwyneth Harris and Teagondior Lofton were awarded Most Determined. Dylan McKeown was recognized as Overall Foundation Student. Abdellah Antar-Antar was recognized as Transition Student of the Semester. Jynira Jeffcoat, Cameron Burton, and Gia Del Vecchio were received the Perseverance Award. Richard Seltzer and Maura Nolan were recognized as PECO Rising Stars. Two students received a 4.0 and shared the title of Valedictorian: Dylan McKeown and Imani Paige-Miller.
Another graduate, Nevaeh Lazarde, was recognized for earning the Triple H Scholarship; a full scholarship to attend Montgomery County Community College, awarded from Wissahickon School District.
In his remarks to the graduates, Valedictorian Dylan McKeown encouraged his classmates to follow their dreams.
" I urge you to embrace the unknown, take risks, and explore new horizons. Let your passion guide you toward your purpose as you become the person you've always wanted to be. It is only when we step out of our comfort zones and challenge ourselves that we truly grow and make an impactful difference on the world," McKeown said.
During the graduation address, Karen Harding-Tasca, Reading Senior Lecturer, encouraged students to reflect upon this major milestone they accomplished.
"Live your list, stay curious. There should never be a moment of boredom because this life is beautiful. Having said that, life is tricky," she said, explaining how life and time can bring unexpected curveballs. "And, I have watched all of you with your curveballs, and I want to tell you, I have seen grit, tenacity, strength and determination, and I admire you so much for that. When you start to worry, I want you to know that you got this."
MCCC's Gateway Program is one of only two programs in Pennsylvania and is among 28 national programs in 19 states across the country. It is one of the first colleges to be a Bellwether finalist, a national award that recognizes programs or activities that have been designed and successfully implemented to foster or support teaching and learning.
A total of 21 school districts – Boyertown, Cheltenham, Colonial, Daniel Boone, Exeter, Hatboro-Horsham, Jenkintown, Norristown, North Penn, Owen J. Roberts, Perkiomen Valley, Phoenixville, Pottsgrove, Souderton, Springfield, Spring-Ford, Upper Dublin, Upper Merion, Upper Moreland, Upper Perkiomen and Wissahickon – and Montco Works, the County's Workforce Investment Board, collaborate with MCCC, referring students to the program.
Additionally, partners Waste Management, PECO, Univest, TD Bank, the Kahn family, the Maguire Foundation, the Malik family, Ambler Savings, Thompkins VIST Bank, First Priority Bank and the Gateway to College National Network have provided financial support for the program and student scholarships.
MCCC's Gateway team includes Program Manager Michelle Kulla; Resource Specialists Esau Collins and Simeon McCray; and faculty Dr. Judith Higgins, Michael Baron, Karen Harding-Tasca, David Pica, Stephanie Wuertz, Susan Testani, Tracey Fida, and Dr. Victoria Vetro.