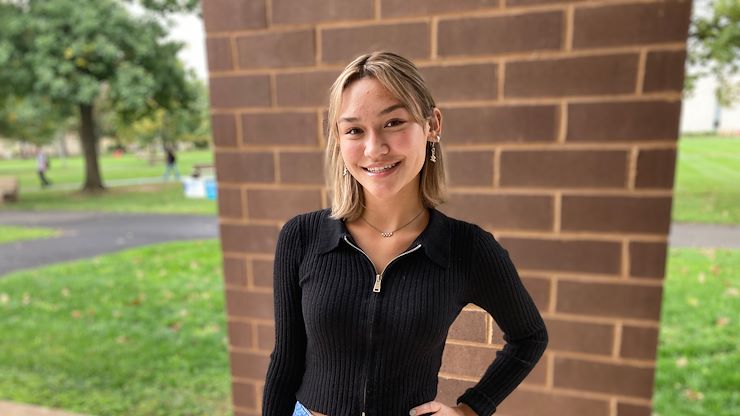 Any plans Kelsey Chau had about going to college once she graduated high school were thrown out the window after the pandemic hit. Before then, she thought she would follow a traditional path and enroll at a four-year institution to pursue a bachelor's degree. Suddenly though, with everything up in the air, Chau, a first-generation college student decided she needed to take a step back.
"I didn't know what I wanted to do. I heard Montgomery County Community College was a good place to start your education and get an idea of what you want," said Chau, a 2021 North Penn High School graduate. "Originally, I was only going to do it for a year or just a semester. But I really liked it and so I'm doing two-years to get my associate's degree now."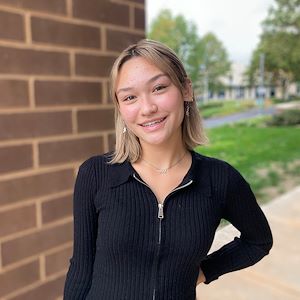 Chau, 19, who lives in Lansdale, is a Management-Marketing major and was recently named a recipient of the Dr. Victoria L. Bastecki-Perez Presidential Endowed Scholarship Sponsored by Alma Jacobs. In 2021, in honor of the inauguration of Montco's sixth president, Montgomery County Community College Foundation established 11 new presidential scholarships for students, with a focus on first-generation college students.
Chau was honored to be selected.
"In my letter to the donor, I said I thought it was inspiring that there are people who care enough about people like myself to support them in their educational journey," she said.
Learning she was eligible for the scholarship and then later finding out she'd been selected as a recipient was exciting, said Chau.
"I was really excited because I've never done anything like that," she said. "I'm a first-generation college student. This is new to all of us in my family. It was exciting for my family members, as well as me. Everyone was excited for me that I got that opportunity."
Chau began taking hybrid classes at MCCC in the fall of 2021 before switching to studying entirely online. She balances her studies while working full time as a dispatcher and receptionist for her stepdad's plumbing company. Studying remotely through asynchronous classes, she said, gives her the flexibility to work and learn on her own schedule.
"For me, I'm a very organized person and like to work at my own pace and do things on my time," she said. "I haven't struggled at all. If anything, I've done better. It gives me free time and allows me to build my schedule better."
When Chau first began studying at MCCC, she was a Secondary Education major. She remembers playing teacher a lot growing up and felt like it could be a potential career. Then she decided pursuing a degree in Education in the Early Years would be a better fit. A program requirement was observing a classroom at an elementary school. That's where she realized teaching wasn't right for her after all. She's grateful MCCC gave her the space to figure out what she wanted to do instead and soon landed on a career in business.
"I thought business is a broad major and can give me opportunities for future jobs," she said. "Out of business majors, what would be best for me? I chose marketing because it's the creative side of business. It's good. I'm excited to get into business more. I'm only taking management classes so far, but I like it. I'm excited for the different opportunities the business world can give me."
Chau still has a few years to go before graduation but plans to transfer to West Chester University, a four-year partner school, after earning her associate's degree. She's grateful to the Presidential Scholarship for allowing her to continue studying and hopes to one day pay it forward.
"It's motivation for myself that maybe one day I can give back like that and give to students like me," she said, "who will take all the help they can get to pursue the things they want just a little bit further."
Established in 1983, the Montgomery County Community College Foundation provides scholarships for deserving students, grants for faculty projects, equipment and technology, emergency funds for students in need, support for cultural enrichment activities on campus and financial resources for other college programs and activities. The Foundation is able to make a difference in the lives of our students thanks to the generosity of alumni, parents, community friends, private foundations and corporations. To see how you can make a difference and discuss how your gift can be most meaningful to you, email the Foundation or call 215-641-6324.