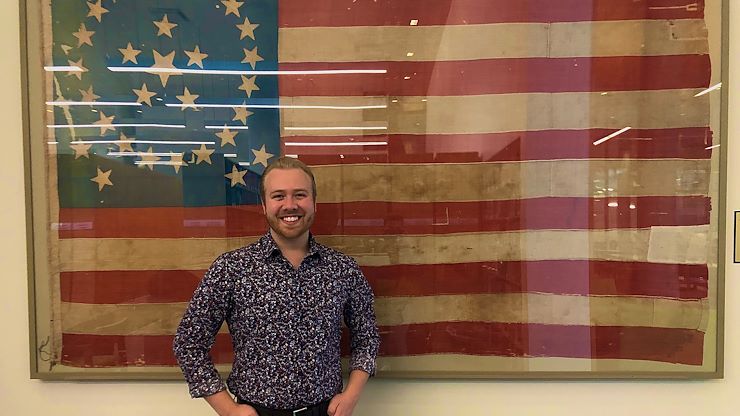 Three years ago, Travis Hunsberger was on the road to law school, thanks to his time as a student at Montgomery County Community College. The 2016 Upper Perkiomen High School graduate from Green Lane had just completed an associate's degree in Liberal Studies in 2018, and was about to begin a political science major and history minor at the University of Pittsburgh. His goal was to continue to law school to one day become an attorney and maybe even serve in public office.
"I think attending Montgomery County Community College is one of the wisest moves I've ever made," Hunsberger said at the time. "It's been really transformative in my development as a student and as a person."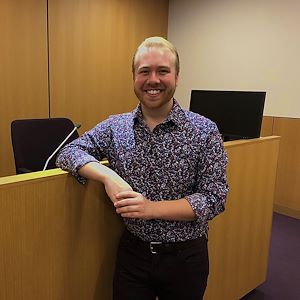 Today, Hunsberger is another step closer toward his goal. The 24-year-old is a second-year student at Syracuse University College of Law, president of the student chapter of the American Constitution Society for Law & Policy, and vice president of the College of Law's LGBTQ+ student organization, Outlaw. He owes his success to his time at MCCC, he said.
"Montco is never far from my heart. I still use my Montco lanyard. Montco's the stem of all my education that's followed," he said. "My convictions from 2019 about the value of attending community college have only doubled since I left."
First steps
After high school, he explained, he didn't know what he wanted to do with his life. He had a feeling he'd like to do something community service-oriented but couldn't decide if that meant something akin to journalism, or more public policy focused.
"Studying at Montco ultimately gave me two years of contemplation and self-reflection," he said, "I was able to earn college credits and think about my future career after university."
At MCCC, he strengthened his interest in government, law, and civics. As a student, he attended Lobby Day, where he traveled to the state Capitol in Harrisburg to talk to elected officials there about his and his classmates' experiences at a community college.
"Democracy is a two-way street," said Hunsberger. "You have to talk to your legislators and tell them about your experiences as a constituent. For instance, during Lobby Day, I was representing community colleges. Community colleges serve a valuable purpose. They are a vital link to people from all backgrounds. Of course, community colleges work with students like me who were fresh out of high school, but they also serve people who go back to school after years in the military or the workforce. To lobby on behalf of those attending Pennsylvania's community colleges was an honor. Sometimes you have to put your finger on the pulse of democracy and become an advocate for a good cause."
Life after MCCC
The road after MCCC has been challenging but ultimately rewarding so far for Hunsberger, he said.
"Life has been good," he said. "Like everyone, there was a huge disruption caused by the pandemic. But to be adaptable and keep one foot in front of the other when the path is difficult is a valuable skill. Persistence is key."
Hunsberger recently co-authored an opinion piece for Syracuse.com urging the U.S. Senate to redouble its efforts to add more judges to the federal bench this fall. The other author of the piece is Joel Dodge, a public interest attorney, policy adviser, and Columbia Law School director. Dodge serves as chair of the American Constitution Society for Law & Policy, New York Lawyer Chapter.
Getting a chance to co-author a newspaper opinion piece was an opportunity he couldn't pass up.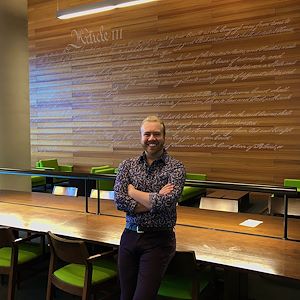 "As president of my American Constitution Society chapter, I am often in contact with members of the national organization. On this occasion, they reached out, and it was a great opportunity to persuade the Senate to continue appointing nominees to the 2nd Circuit Court and throughout the nation. There's been great progress by the Administration so far, but there is still work to be done before the midterms."
"The American Constitution Society for Law and Policy strives for legal reform," he continued. "ACS is a team of dedicated and passionate future civic leaders. We deeply value community engagement and advocate for policies and laws that improve the lives of everyone throughout the country."
Lessons learned
As a student at MCCC, Hunsberger said he was able to interact and learn from a large swath of different people in the classroom, including students much older or further along in their careers, who shared their stories and wisdom.
"It was fundamental to where I am today," he said.
Hunsberger left quite an impression on his classmates and teachers, too.
"To date, the class he was in was one of the most collaborative and engaged classes I've ever taught," wrote Jill Beccaris-Pescatore, MCCC Associate Professor of Economics. "We all went out for lunch after the semester was over! The other students in the class would tell Travis to remember us when he becomes a senator or president and that was a sincere statement."
"Often times we have no idea what our impact is at Montco because they pass through so quickly," said Beccaris-Pescatore. She was so proud to see Hunsberger's name in the opinion piece noting, "This is a big deal."
"That's incredibly kind," Hunsberger said in response. He remembers taking both her micro and macroeconomics courses and still has the textbooks. He'll often refer back to the lessons he learned during his time at MCCC. "She has always been amazing," he said. "She would always ask, 'How can I help you?' and 'How are you doing today?' During my time at Montco, she always made me feel right at home."
Hunsberger has one full year left at Syracuse University College of Law, and then he plans to come back to Pennsylvania to work in some kind of public policy role.
"I want to improve the lives of my fellow Pennsylvanians and build stronger communities. It's about being able to leave a place better than how you found it," he said. "I want to do good by my state and by my community. I hope the years of education are helpful for that. I've studied the law at Syracuse, political science at Pitt, and liberal studies at Montco, and I hope my training, in part, gives me the skills necessary to craft intelligent policy and make positive change in the future."