Going to Montgomery County Community College was not part of Gavin McCloskey's initial college plans. He was playing soccer at King's College in 2019 when he turned the wrong way and "tweaked" his back, requiring surgery and time to recuperate.
Suddenly that wrong turn lined McCloskey, of Gilbertsville, up for a new educational path as studying closer to home became a priority. When the lifelong soccer player returned to college in fall 2020, it was to virtual studies at Montgomery County Community College.
It helped that McCloskey had friends on the College's men's soccer team. He, too, wanted to be a Mustang.
"I know education is first," he said, adding that he was eager to join the "good group of guys."
His mother, Lauren McCloskey said the family was not sure what was in store for Gavin following his injury. Montco's online classes helped him recover and gradually get back into the rigors of college life.
"It was a learning and growing experience," she said. "Montco allowed him to develop, to become a leader, and to do things at the pace he needed."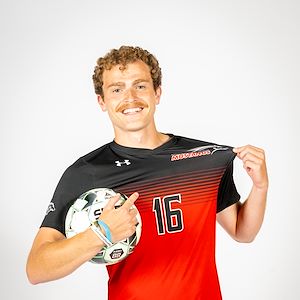 Gavin served as captain for both seasons as a Mustang.
"Gavin was a uniter of the team. He never got angry," his mother said. "He learned, 'I can do my part, I can support the team.'"
He credits Coach Tom Haney, Assistant Coach Kim Gerhart, Athletic Director Kelly Dunbar, as well as the rest of the soccer staff with setting up the team for success. Gavin noted Coach Haney's ability to build "an extremely diverse team" with players from "everywhere around the world you could think of," including South Korea, Nigeria, Ghana, and Afghanistan.
"I don't know how coach does it," Gavin said. "He finds a way and it's amazing."
As team captain, Gavin worked to ensure that the minor on-field bickering did not progress off the field.
"Everyone got along," he said. "We would have deep talks on the bus … It was definitely more than academics and playing soccer. It was getting to know the guys on the team."
Gavin, who graduated from Montco in May with a Business Administration degree, had transferred to Lock Haven University for the spring 2023 semester. One of his contacts from Montco helped Gavin get recruited to play for Lock Haven's men's soccer team. He plans to finish his Business Administration degree at Lock Haven and further his education with a master's degree.
He credits Montgomery County Community College professors with paving the way for his academic growth.
"Professors are very flexible and knowledgeable," he said. "You have to put yourself out there and answer questions in class."
Gavin also enjoyed hearing team lectures on mental health and sports health from Montco Psychology Associate Professor, Dr. Steve Baron.
"He's a great guy," Gavin said.
With his days on the Blue Bell Campus behind him, the soccer enthusiast makes strides to stay connected with his Montco soccer team and wishes the best for the future Mustangs.
"I hope there's good leadership that follows," he said. "I hope the program continues to do better."

After all, "it's about being better than the previous day."