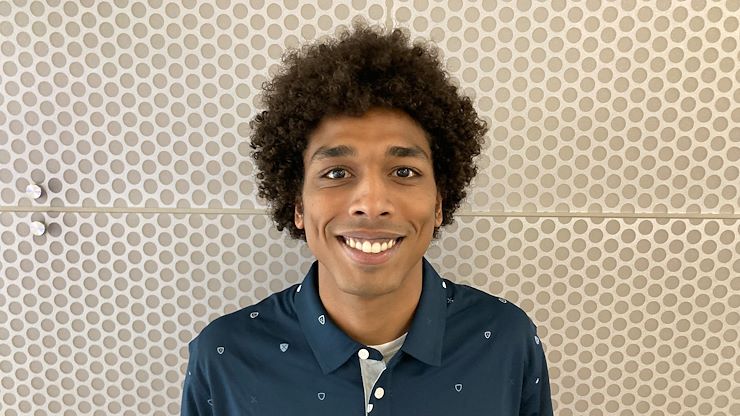 A Montgomery County Community College student was among a statewide group recognized for their achievements in the classroom recently.
Business Administration major Omar Ali was named to the 2023 All-Pennsylvania Academic Team, which is sponsored by Phi Theta Kappa (PTK), the international honor society for two-year colleges, and The Pennsylvania Commission for Community Colleges.
This recognition honors an exceptional group of community college students who have achieved academic excellence and demonstrated a commitment to their colleges and communities. To qualify, students must have completed at least 36 credits and have a cumulative GPA of 3.5 or higher.
"It's a great opportunity," said Ali. "I'm blessed and honored."
Computer Science major Taylor Bellegue was also named a Transfer Pathway honoree of the 2023 All-Pennsylvania Academic Team and Computer Networking & Cyber Security major Anthony Gibase was named to the All-Pennsylvania Workforce Team. The Pennsylvania Commission for Community Colleges recognized the All-Pennsylvania Academic and Workforce Teams during an awards banquet in Harrisburg March 27.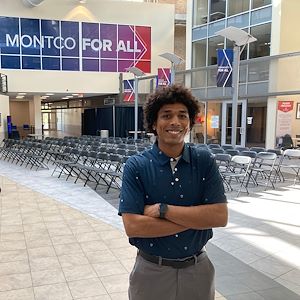 Originally from Horsham, the 2021 Hatboro-Horsham High School graduate said after high school his goal was to pursue a bachelor's degree in finance and found MCCC as a good first step toward that effort.
"That's really the ultimate goal of building my career," he said. "Being at Montco was something I found was a steppingstone. I was able to come here and establish a foundation, while looking for my next college, and also discover what impact I can have here. And I found opportunities to do so. I'm focused and grounded on being the best version of yourself."
MCCC made financial sense for him after high school and provided a good "return on investment," he said.
"Where was I when I was in high school?" he said. "During that time, it was during COVID. I didn't really know what the next step was going to be. If I was going to take an opportunity going to a college and paying a pretty substantial amount of money for a degree, I was trying to see how that would work and what's going to be the benefit at the end of the road. Coming to Montco allowed me to put myself in a position where I can capitalize on my career and my education."
Guiding him during his time at MCCC was Marketing/Management Assistant Professor Paul Johnson.
"He's a great mentor of mine," said Ali. "I would come into class wearing a suit and tie because I had work after class. Every single time I would go into his class, he was dressed as well with a suit and tie. We grew a connection over the semester. As an African American student, I don't have too many role models. Having those prominent ones that are dressed well and present themselves well, as a student, that's who you look at and that's how you want to carry yourself."
Johnson had glowing remarks about Ali as a student.
"Omar was one of the most rewarding students that I had an opportunity to teach in 15 years of teaching," said Johnson. "Although I only had him in one of my courses, he had an impact on the class. Omar demonstrated great leadership skills within the class and was proactive concerning communication. He is mature beyond his years and takes a genuine interest in the topics of the course. Omar provided unique and varied perspectives via class discussion and other activities."
Ali also mentioned Management Instructor Damon Gray as another role model of his.
"He did wealth management and graduated from Drexel University and got himself a good degree," said Ali. "As a role model, he's motivated me to not only be the best version of myself but elevate my achievements and my goals."
Gray was touched by the kind words.
"I am deeply honored to have been a positive influence on Omar's aspirations in the field of financial services, where the need for greater representation of African Americans is crucial," he said. "It is truly inspiring to see how Omar embodies my belief that with hard work, dedication, and the right mindset, anyone can achieve their goals and reach their full potential. I have no doubt that he will continue to make a positive impact in his career and beyond."
Last fall, Ali's hard work in the classroom did in fact pay off, as he was inducted into PTK.
"That was a great opportunity as well," he said. "Being able to collaborate with that group of individuals who are all on the same intellectual level as you. Collaborating on ideas and meeting new students on campus who are ambitious and who are meeting goals the way you are as well."
While Ali's still deciding on where he'll attend school this fall, he knows he'd like to pursue a career in investment management.
"I'm interested in allocating capital into the financial market, looking at individual clients and how you can build them a portfolio and manage their finances," he said, "how they can generate passive income or generate multiple streams of income, and advising people on the right financial plans."
When asked if he had any advice for students like him, Ali emphasized following your goals.
"Stay focused. It goes a lot quicker than you think," said Ali. You can accomplish so much in a short period of time. Make sure that while you're at Montco, figure out the goals you want to see after, bring those goals into fruition and keep your mindset oriented toward the goal you want to achieve. Know what you're here for and what you want to create and what you want to see out of yourself."