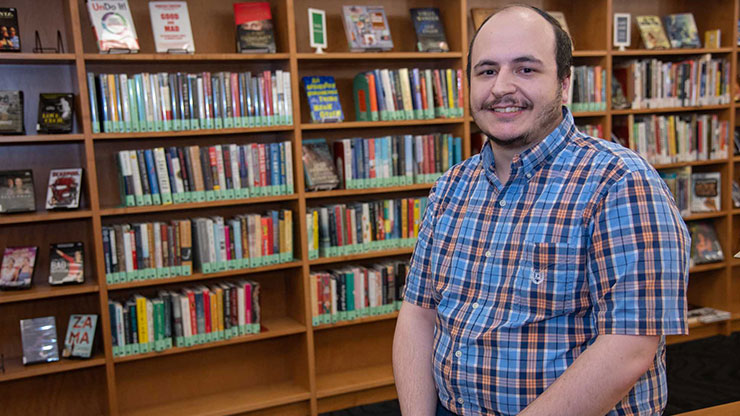 When Nicholas Natale walked across the Pottsgrove High School graduation stage in 2011, he was receiving his second diploma in two months. Earlier that spring, Natale com-pleted his associate degree from Montgomery County Community College in Liberal Studies and enrolled in Harrisburg University as a rising junior, all before graduating from high school.
Through MCCC's dual enrollment program, high school students can get a head start on their college education by taking courses that count toward both their high school and undergraduate degrees. Students can take classes at their high school, online or at MCCC in the evenings, on weekends, and during the summer. Many students also coordinate with their high school to accommodate college courses in their schedule.
"Through the amazing work of MCCC's dual enrollment personnel, I was able to attend a full schedule of college courses during the morning hours before heading to my high school in the afternoon to take courses that were required to complete my diploma," Natale said.
Natale completed most of his coursework at MCCC's West Campus in Pottstown, with a few additional classes online. He also took full advantage of employment and extracurricular opportunities available to West Campus students, working part-time as a Peer Mentor in the Student Success Center.
Two years after high school graduation, armed with a bachelor's degree in Computer and Information Sciences, Natale landed a software engineering job at Lockheed Martin.
"I was given the opportunity of a lifetime that I could not refuse," Natale said. "Montgomery County Community College has advanced my education by tenfold and has even given me career experience that I couldn't have received anywhere else. I cannot even begin to think of where I would be today without MCCC."
MCCC's close relationship with K-12 schools makes it easy for local high school students to take advantage of the academic resources that the College has to offer, and gives area school districts flexible options to enhance the education of its students.
"As a psychology instructor at MCCC and a Pottstown School District board member, I have the privilege of both connecting high school students to the dual enrollment program and teaching them in my classes," said Susan Lawrence. "I have found the high school students in my courses to be very motivated and enthusiastic, which enriches the learning environment for my traditional students as well. The dual enrollment program is a win for students, a win for the College, and a win for the high schools."
Preparing for the next step
Beyond dual enrollment, MCCC offers academic programs that position high school students for success after graduation. The micro-credential program offers one-day courses in high-demand subjects from Cybersecurity to Nurse Aide fundamentals, providing students with an affordable way to learn a new skill. Students who complete a micro-credential are also eligible to receive a stipend that can be used toward one of MCCC's noncredit Fast-Track to Employment programs. MCCC's well-regarded Academic Test Preparation program prepares students to approach the SATs and ACTs analytically and with confidence by practicing effective test-taking strategies.
MCCC also opens its West Campus gallery space to area high school students for an exhibit that showcases the work of up-and-coming artists. Opening February 19 in the North Hall Art Gallery, the 6th Annual Tri-County High School Exhibition and Competition will feature the best of high school student work from Berks, Chester and Montgomery counties, giving them an opportunity to share their work with the community and learn from one another. MCCC alumnus and artist Frank Genuardi will be talking about his artwork and MCCC experience at the opening reception.
By providing strong academic and professional development programs tailored to high school students, MCCC serves as a launch-pad for those taking their first steps toward a successful career.