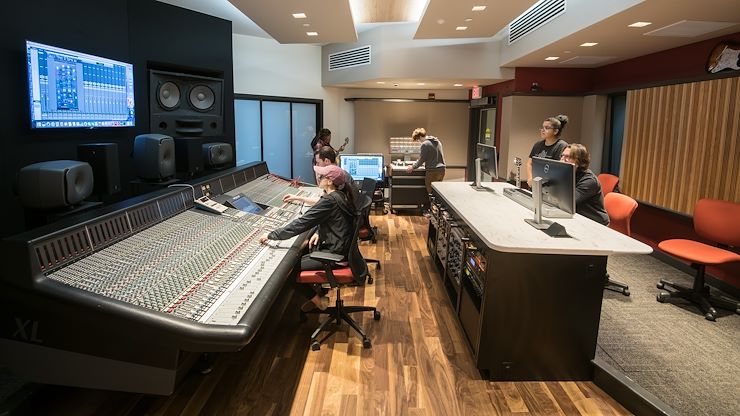 Montgomery County Community College's Mix Room – a professional sound recording studio/mixing suite located on the Central Campus in Blue Bell – was recently highlighted in the cover story of the May 2019 issue of "Sound & Video Contractor," an industry publication of the global multi-platform media company, Future PLC.
In the article, "Sound Studies – There is No Media Education Without Pro Audio Education," John Storyk, the founding partner of Walters-Storyk Design Group, discusses the importance of audio education in today's media world and how colleges and universities are building audio facilities to prepare students for careers in the recording industry.
WSDG has designed nearly 3,500 world-class audio and video production centers during the past 50 years, including MCCC's teaching studio/mixing suite for the College's expanding Sound Recording and Music Technology (SRT) Program. MCCC's SRT associate degree program provides a comprehensive background in sound recording, music production and music technology expertise.
Working with Philadelphia-based PZS Architects, WSDG designed and developed MCCC's studio/mixing suite, which includes a Solid State Logic 9056K mixing console and more than 50 pieces of digital and analog recording equipment.
"With the addition of the Mix Room, control room and isolation booth, we can provide our students with hands-on experience in the entire scope of the recording process in a classroom lab designed to function as a professional recording/mixing facility," says SRT Director David Ivory.
The Mix Room is a live learning lab for students, who not only get to learn and practice their skills, but also get to meet and work with professionals in the music industry through the Master Classes that are held throughout the year.
As a cumulative, multi-discipline project, the SRT Program hosted a special live concert this year that was recorded, mixed and edited by students from several classes in the program. The project taught students how to use the tools and their knowledge as they would working in internships and jobs in the industry.