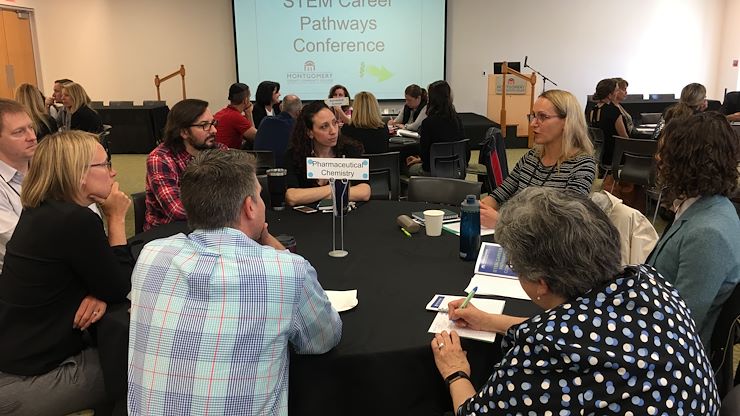 More than 50 teachers from area high schools gathered at Montgomery County Community College on April 12th to learn more about pathways to careers in Science, Technology, Engineering and Mathematics and the skills and knowledge students need to succeed in these fields. The STEM Career Pathways Conference focused on careers in biotechnology and engineering and was sponsored by MCCC and NBC2, a National Science Foundation Advanced Technological Education-funded, regional center.
Dr. Randy Weinstein, the interim Dean of Engineering and Associate Vice Provost for Teaching and Learning at Villanova University, opened the conference with an intriguing and entertaining keynote presentation where he spoke about the qualities needed for engineers, including problem solving, risk taking, curiosity and creativity. Engineering is not only for students who excel in math and science.
"We need to think of engineering as the liberal arts degree of the future," he said, noting that students will need to have good oral and written communications skills, as well as critical thinking ability.
He gave examples of how students at Villanova University analyzed real-life problems and then developed solutions. In one instance, the students discovered a way to convert waste cooking oil from the cafeteria to biodiesel fuel that could be used on campus and then demonstrated that even the byproduct could be made into a type of glycerin soap.
Dr. Weinstein highlighted the various types of engineering fields – mechanical, civil, computer, electrical, agricultural, biomedical and chemical – and the broad range of jobs they encompass. He asked teachers to encourage students to follow their passions when exploring careers and to consider different options.
Following the opening keynote presentation, the teachers participated in roundtable discussions about careers in Biotechnology, Forensic Science, Biomedical Science, Pharmaceutical Chemistry, Pharmaceutical Engineering, Computer Engineering, Civil Engineering, and Electrical Engineering led by industry professionals from local companies. Each of these discussions covered the latest advances in the field, the variety of jobs within the field, and the education and skills required to be successful in that field.
The discussions were led by Dr. Julie Bick, Chief Scientific Officer for Flow Metric Diagnostics; Dr. Karin Abarca Heidemann, Vice President of Science Operations at Rockland Immunochemicals; Dr. Jill Carton, Senior Director of Cell Engineering at Century Therapeutics; Dr. Michelle Myers, Senior Director of Cell Process Development for Cell and Gene Therapies at GlaxoSmithKline; Dr. Valerie Shurtleff, Senior Scientist, Department of Medicinal Chemistry at Merck; H. Marie Loughran, Scientist, Department of Medicinal Chemistry at Merck; Arthur Young, Forensic Scientist at Guardian Forensic Sciences; Brian Termine, Professional Engineer & GSK Fellow, GlaxoSmithKline; Vincent Falcone, Computer Engineering, Integration Team Lead, Aweber; Tyler Ladd, Manager of Engineering, SEPTA; and Nick Pizzo, Antenna Design Engineer, Cobham Advanced Electronic Solutions.
Through the various discussions, teachers received valuable information to take back to their classrooms.
Cindy Conaway, who teaches 11th and 12th grade anatomy & physiology and physics at Gywnedd Mercy Academy High School said it was helpful to hear about the skills needed for forensics and biomedical fields and to take the resources back to her students.
Lisa Woodland-Smith, who teaches math at Wissahickon High School, thought the discussions were informative and would help her students discover what engineering is and what skills are needed.
"It's about promoting a growth mindset, which we foster, but we can do more," Woodland-Smith said. "Students need to become learners, and not just doers, and also be able to accept criticism and work as a team."
Conference host Dr. Maggie Bryans, MCCC faculty and Principle Investigator of the NBC2 Center commented, "We recognize the importance of enlightening high school students to these advanced technology careers that are very much in-demand. By offering this experience to the teachers we provide real world examples they can introduce to students as they teach the foundational knowledge needed to pursue these careers."
Following the lunch break, the participants heard from keynote speakers Dr. Michelle Myers, the Director of Cell Process Development for Cell and Gene Therapies at GlaxoSmithKline; and Dr. Pinar Cicalese, who is the Supply Chain Strategy Manager for Cell and Gene Therapies at GlaxoSmithKline.
Dr. Myers and Dr. Cicalese talked about the rapidly growing field of cell and gene therapy, which holds great promise in the treatment of diseases. Companies, they said, need trained and motivated staff from many disciplines including bioscience, chemistry and engineering, all working together to make these medicines a reality for all the patients who could potentially benefit. With the increased approval of these types of therapies in recent years, there will be an increasing demand for professionals for these companies.
The conference concluded with a panel discussion about educational pathways that lead to STEM careers, including starting the path at a community college for education and to develop work-ready skills and then transferring to a 4-year institution. Both MCCC and BCCC have transfer partnerships with many local four-year institutions.
The panel included moderator Dr. James Bretz, MCCC's Dean of STEM; Dr. Maggie Bryans, MCCC Associate Professor of Biotechnology and Biology, , Principal Investigator for NBC2; Dr. Linda Rehfuss, Bucks County Community College Professor of Biotechnology, Co-Principal Investigator for NBC2; Dr. Randy Weinstein, Villanova University Interim Dean of Engineering, Associate Vice Provost for Teaching and Learning, Professor of Chemical Engineering; Dr. Sheryl L. Fuller-Espie, Cabrini University Professor of Biology, Program Coordinator for Master of Science in Biological Sciences; Dr. Arun Kumar, Jefferson College of Health Professions Associate Professor and Program Director Biotechnology, Department of Medical Laboratory Sciences and Biotechnology; and Dr. David Brookstein, Professor of Mechanical Engineering, Senior Associate Dean for Undergraduate Studies, Temple University.
The essence of this one-day conference was captured through recordings of the keynote presentations and short videos featuring many of the roundtable speakers speaking about their area of expertise. These resources are available to all high school teachers, counselors and students and can be accessed from the NBC2 website.