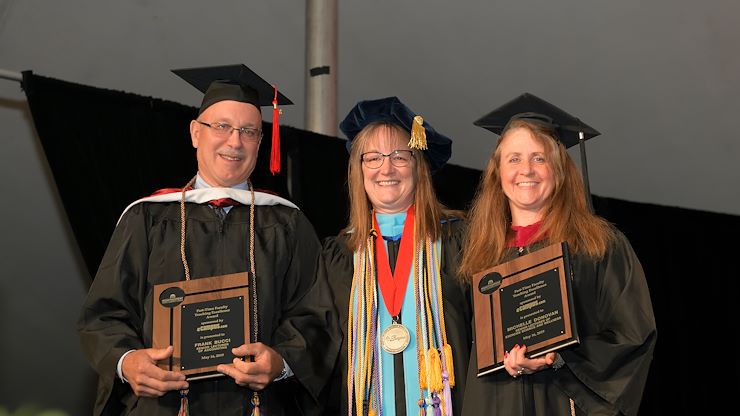 Montgomery County Community College recognized two part-time faculty members at the 2019 commencement ceremony in May. Part-time Accounting Senior Lecturer Frank Bucci and part-time Exercise Science and Wellness Senior Lecturer Michelle Donovan were awarded the Part-Time Faculty Teaching Excellence Award for their work and dedication.
As part-time faculty, both Bucci and Donovan teach classes at Montco while working in their respective fields. Each professor brings these real world experiences into class to teach their students. Bucci's experience as an IRS agent generates class discussions of actual accounting situations that his students will encounter, while Donovan's work as a dietitian allows her to teach lessons in an understandable way.
While Bucci worked as an IRS agent, he was always passionate about teaching. In addition to teaching tax courses for the IRS, he has taught at various colleges in the area. Though he has retired from the IRS, he continues to teach at Montco and Philadelphia University. Bucci wants to make sure his students understand the material and feel confident that they can reach their goals.
Bucci was humbled by the award, but his priority is connecting with his students.
"It's nice to be recognized by the students, but I don't think I do anything more special than any other part-time professor," he said. "Anybody who teaches part-time has another job. They teach because they love it, and they are dedicated to their students."
Michelle Donovan has been teaching at Montco for 10 years. As a member of the Exercise Science and Wellness department, Donovan teaches students about basic nutrition practices and exercise conditioning. In addition to teaching at Montco, she works as a nutrition consultant with the Mustangs' Men's Basketball Team.
As a teacher, Donovan brings props into class to demonstrate different nutritional topics. In one class, for example, she brought in gluten-free food and food with gluten to illustrate the taste difference. Donovan's goal when teaching is not just to teach students about differences in nutrients and exercises, but for the student to take those lessons with them to live healthier lives.
Donovan was honored to receive the award because she enjoys the work and likes seeing students understand and learn the material.
"It's so rewarding to know that you've made an impact," she said. "I teach because I like the connections and the relationships I make, and it always is exciting to see the students understand why nutrition is so important and to see them make those changes in their lives."
Bucci and Donovan were each nominated for the award by students who have taken their classes.
"He cares about the success of his students," one nominator said of Bucci. "He is a great teacher who genuinely cares about making the material interesting and comprehensible to everyone."
Likewise, one of Donovan's students noted the methods she used to teach lessons.
"Her energy and passion are infectious for the students," they said. "From bringing Legos to coloring, to doing taste tests, the students are challenged academically to learn nutrition."
Bucci and Donovan have worked to build relationships with their students to help them succeed and heir real-world experience in their respective fields has left an impression on many students and will influence many students to come.