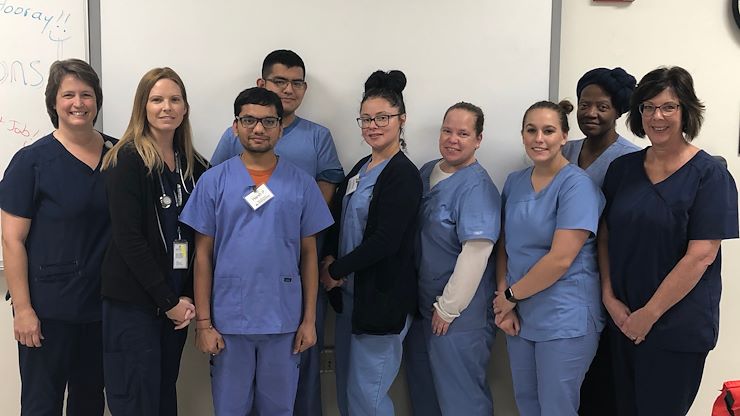 Fourteen students recently graduated from Montgomery County Community College's Nurse Aide Training Program held at the College's Central Campus in Blue Bell and West Campus in Pottstown.
The Central Campus graduates include Miriam Alva Diaz, Pennlyn; Elaine Dietz, Blue Bell; Emily Dominski, Abington; Victor Enogwe, Abington; Deborah King, Audubon; Vernina Moore, Philadelphia; Amber Perkins, Horsham; and Candice Smith, King of Prussia. They completed the five-week program held during evenings and weekends in Blue Bell. The instructors are Maureen Brown, RN, and Lori Spiezio, RN.
The West Campus graduates include Caroline Ann Barco, Lansdale; Lisette Borrero, Pottstown; Casey Leap, Georgette Smith-Slater, Schwenksville; Harshadbhai Patel, Pottstown; and Alexis Rodrigo Perez, Norristown. They completed the day program held in Pottstown. The instructors are Kim Ziegler, RN, and Lori Ertel, RN, as well as Lori Spiezio, RN, Manager of the Nurse Aide Program.
Spiezio worked with students on both campuses and was encouraged by how determined they were to learn.
"We could really see the teamwork and their eagerness to learn," Spiezio said. "The students not only worked well with the residents, but they also supported each other throughout the program. With their positive attitudes and hands-on experiences, I know they will excel as nurse aides."
The Nurse Aide Training program combines in-class lessons with hands-on clinical training at local long-term care communities. The program seeks to educate students and provide a resource to prepare them for a career in the nursing field.
"Clinical was a wonderful experience," one student said. "I enjoyed the personal experience of meeting and working with the residents. The course instructor always was available to help out and answer any questions that we had."
Successful completion of the Nurse Aide Training Program prepares students to take the Pennsylvania Nurse Aide Competency Examination and enroll in the Nurse Aide Registry for the Commonwealth of Pennsylvania. Earning the Nurse Aide Certification at MCCC is the first step to entering a career with rewarding benefits and lasting job security with endless opportunities for growth.
The demand for nurse aides who help provide basic care for patients in hospitals and residential care in long-term care facilities is growing and will continue to increase during the next decade. According to the Bureau of Labor Statistics, employment in this field will grow 11 percent from 2016 to 2026, faster than the average for all occupations.
The program serves as an entrance point for people to join the health care field. The program teaches the skills and techniques needed to succeed as a Certified Nurse Aide. Students learn safety and emergency procedures, as well as personal care and communication skills, in order to properly interact with and advocate for patients.
The next evening and weekend session begins on Jan. 13 in the Health Sciences Center at the Central Campus in Blue Bell. Classes will be held Monday through Thursday from 5 - 9:30 p.m. and on two Saturdays from 7 a.m. to 2:45 p.m. There will also be a day program at the Central Campus in Blue Bell beginning on Jan. 27.
The next session at MCCC's West Campus in Pottstown in South Hall will begin on Feb. 17 and will be held during the day. The hours for the day classes at both the Blue Bell and Pottstown Campuses are Monday through Thursday, from 8 a.m. to 2:30 p.m. The program runs for five weeks for a total of 120 hours and includes hands-on clinical training.