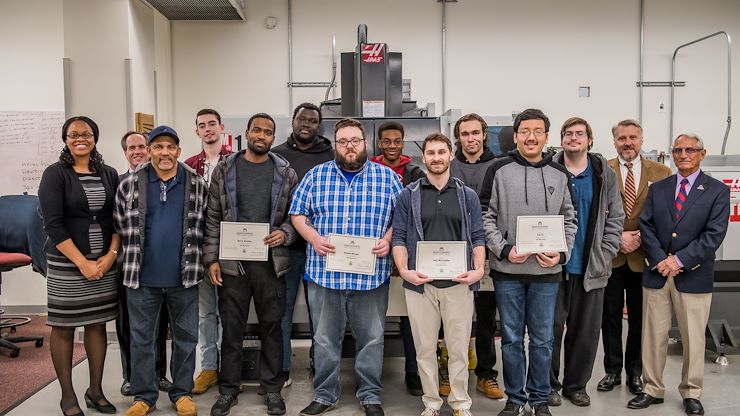 Nine students recently graduated from Montgomery County Community College's Machinist-Computerized Numeric Control (CNC) Operator Program offered through MCCC's Workforce Development Division.
Taught by experienced manufacturing professionals, MCCC's 168-hour Machinist-CNC Operator Program provides students with the necessary knowledge and skills in basic measurement, blueprint reading, safety precautions and procedures, precision tools, machine milling and lathe operations, maintenance and troubleshooting.
The graduates are Robert Barger, Harleysville; Barry Bickley, Abington; James Corrigan, Hatfield; Daniel Hall, Hatfield; Yendoutie Kariare, Norristown; Joseph McFadden, Lansdale; Wendall Sanders, Flourtown; Tai To, Lansdale; and Juan Vargas, Philadelphia.
MCCC collaborates with more than a dozen manufacturing companies in Montgomery County to train their employees through this program. The program has a high placement rate with local companies.
According to the Pennsylvania Department of Labor & Industry Center for Workforce Information and Analysis, the annual average salary for experienced operators is $65,290, and there is a 16.7 percent growth expected from 2014-2024 within Montgomery County.
The next program session will be held from Feb. 17 through May 26, 2020 at MCCC's Central Campus in Blue Bell. Classes are held Mondays, Tuesdays and Wednesdays from 6 to 10 p.m.
For more information, contact the Director of Information Technology Programs for Workforce Development Anil Datta at adatta@mc3.edu.