Each semester, local and state elected officials from Montgomery County are invited to provide guest lectures to Political Science students about their real-life exper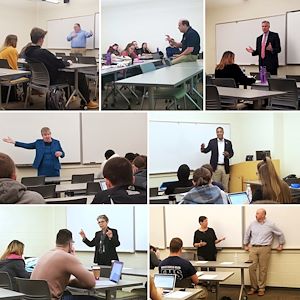 iences in public life. As an Integrated Learning program, the lectures are incorporated into the syllabus for each course. Students research each official before their visit and are required to develop questions on their background, experiences, or legislation in which they've been involved. While some lectures are more general in nature, others have focused on specific topics such as "Politics vs. Governing," "Gerrymandering," "County & Local Government," and "Experience as a Committee Chair." All lectures are non-partisan and provide an in-depth look at life in public service.
Schedule for the fall semester:
M-W-F Classes – 9:05 a.m. to 10 a.m.
Sept. 18 – Rep. Liz Hanbidge
Sept. 25 – Rep. Mary Jo Daley
Oct. 23 – Sen. Katie Muth
Nov. 18 – Sen. Art Haywood
Blackboard link for MWF classes (PIN 271 784 2582)
To call in: 1-571-392-7650
T-TH Classes – 12:45 p.m. to 1:40 p.m.
Sept. 24 – Rep. Todd Stephens
Oct. 15 – Sen. Maria Collett
Oct. 22 – Commissioner Ken Lawrence
Nov. 5 – Rep. Tom Murt
Blackboard link for T-TH classes (PIN 899 293 3018)
To call in: 1-571-392-7650