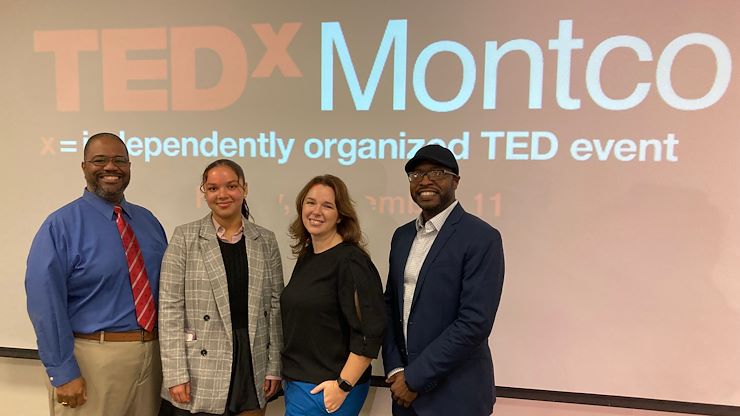 Students, faculty and administrators at Montgomery County Community College participated in the first-ever TEDxMontco program at the Blue Bell Campus recently.
The program, which was held in person and streamed online, featured Computer Science student Alyssa Long, Medical Assisting Assistant Professor Shauna LaMagna, Math Assistant Professor Dr. Durrell Jones and Dean of Students Dr. Samuel Coleman. Each gave short, and thought-provoking presentations.
"This event is a wonderful opportunity to extend learning for our students beyond the classroom," said MCCC President Dr. Victoria L. Bastecki-Perez. "You have the privilege of engaging in this activity today with students, administrators and faculty. Not only here on our Blue Bell Campus in Pennsylvania but around the world."
Long's presentation was called "Imposter Syndrome" and focused on her personal journey toward gaining self-confidence, especially following the pandemic. LaMagna's presentation was called "Beyond Yoga Pants … My Journey of Integrating Complementary Modalities into Traditional Talk Therapy." Her presentation looked at finding ways to treat her personal struggles with anxiety and depression by exploring the complementary therapy Reiki, a Japanese form of energy healing.
Jones' presentation was called "COVID's Impact on Young Black Men's Participation in Community College Development Mathematics," while Coleman's presentation was called "Imposter Syndrome Fear vs. F.E.A.R," which focused on fighting depression and learning to accept yourself and know that you belong despite what others may say or you may think. The event's master of ceremonies was Arts and Culture Program Coordinator Iain Campbell, and alumna, and the former SGA President who is responsible for bringing TEDx to MCCC, Jenny Nguyen provided the welcome message.
Inspired by the popular TED talks series, "TEDx is a grassroots initiative, created in the spirit of TED's overall mission to research and discover 'ideas worth spreading.'" TEDx brings the spirit of TED to local communities around the globe through TEDx events. These events are organized by passionate individuals who seek to uncover new ideas and to share the latest research in their local areas that spark conversations in their communities," according to its website.