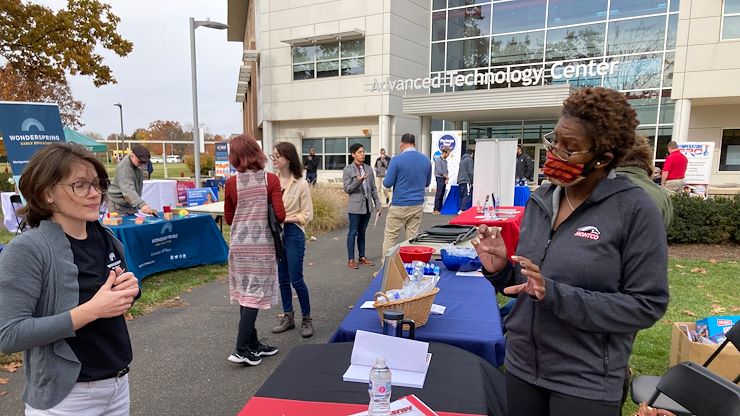 Past and present Mustangs who run their own small businesses are encouraged to promote their products and services during a free event on campus.
Montgomery County Community College's Career and Alumni Engagement Office will host a Student and Alumni Small Business Expo Wednesday, April 26 from 4- 6 p.m. on Blue Bell Campus.
"This event will provide both groups a free opportunity to showcase their businesses and hopefully sell their products and services," said Director of Career & Alumni Engagement Takisha Mundy. "We're hoping for organic student/alumni networking, while helping to provide exposure."
The Expo will be free and open to the community and will be held in the lower level of College Hall. The vendors registration deadline is April 7.
Events like the Expo are a great way for small businesses to find new sales and for potential customers to find new products and services in the area, said Mundy.
"It's always a good thing," she said. "Part of my mission is always finding organic ways for students and alumni to work together, share the same space and watch synergies happen."
Mundy said visitors are welcome to stop by, and small business owners are encouraged to register a table.
"It's a great way to support our student and alumni entrepreneurs," said Mundy.
The Career and Alumni Engagement Office is an effective tool for students and alumni to use to advance their careers or for personal development. Among the free services available include major and career path guidance, resume and cover letter review, job searches and interviewing skills support, job and internship listings, and employer engagement for those with public profiles through the Hire a Mustang platform, which allows employers the ability to find the most qualified candidates for their organization's growth and success at Montco. Employers can post job and internship opportunities, review candidate resumes, and more through the free service.
Career Coaches are available to help develop, evaluate and effectively initiate educational and career goals. Current students can make an appointment by calling the Student Success Center at 215-641-6577 or schedule online for Blue Bell and Pottstown campuses. Prospective students and Montco alumni should email Career and Alumni Engagment to get started.
Montco's 90,000+ members of the Alumni Association make a difference in communities and workplaces around the world. Membership is free and comes with plenty of benefits. The most valuable advantages are the intangible ones—the chance for members to stay connected to Montco, network with fellow alumni and get involved in events.
Alumni are welcome to participate in alumni activities, serve in leadership roles or return to campus to see all of the wonderful changes taking place. To get the most out of an association membership, alumni are encouraged to complete the online form to receive alumni news, event invitations, and other information about membership.
For more information about the Student and Alumni Small Business Expo or for more information about alumni activities, contact Career and Alumni Engagment.
Updated: 3/29/2022