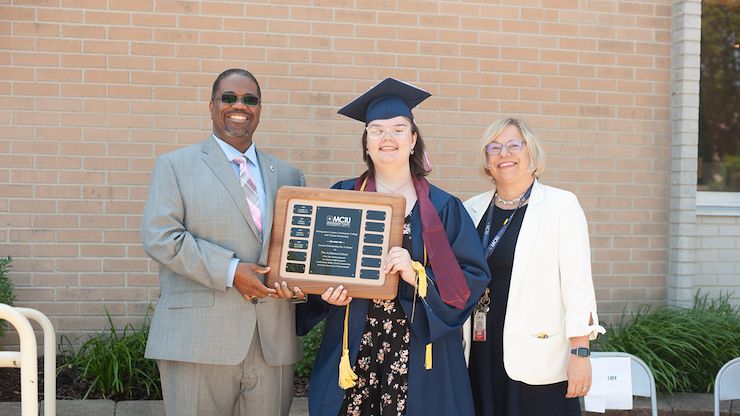 This fall, an incoming Montgomery County Community College student will be studying on a two-year, full-tuition scholarship, following her graduation from The Anderson School.
Dr. Samuel Coleman, MCCC Dean of Students, presented The Montgomery County Community College Full Tuition Scholarship to student Victoria Mauger during the school's graduation ceremony, June 13.
Coleman addressed the crowd at the ceremony by quoting from "A Walk with Prudence," by Jason Versey. In it he describes the necessity for friction in life due to its ability to create necessary changes in life.
"As you leave these walls today remember that life will be full of friction. You will encounter times where that friction may feel like it's too difficult to handle but remember in working with steal you have get it extremely hot," Coleman told the crowd. "By doing this, it removes all the impurities from the metals, and it makes the steel stronger where it can last almost a lifetime. Remember when it gets too hot, you have a support network in your friends, your teachers, and your family. Wherever you go from here keep moving forward."
He then congratulated Mauger for her achievement.
For 15 years, the College has awarded the scholarship, which covers full-tuition and fees, every year to an Anderson School senior set to graduate and enroll as an MCCC student. The student is someone who the school believes has demonstrated academic improvement, leadership skills, good citizenship and has served as a role model for others. It is the only full-tuition scholarship the College offers.
Mauger, 19, is from Boyertown, and will study Nursing. She will also study as a member of Montco's Partnership on Work Enrichment and Readiness (POWER) program, which can help connect students to campus life, develop their confidence as a student, and discover their educational and career potential. Students earn credits towards their college degree, a computer literacy credential, and receive support from a personal student success coach.
Anderson School Principal Christine Raber had glowing words to describe Mauger.
"She has a huge capacity to help others," said Raber. "It shines through. She always has a positive attitude with a great sense of humor. She'll be missed here for sure. She brought energy that made people feel good. She'd befriend anyone who needed it. She's grown in her confidence and self-esteem."
As part of the scholarship's application process, students were tasked with writing an essay about themselves. Mauger focused her essay on her struggles with depression and anxiety and the work she's done to successfully manage them.
"I overcame my battles with my inner thoughts by seeking help and taking control over my obstacles," Mauger wrote. "What helped me take control over my obstacles was coming to Anderson and working on myself. I worked on myself by opening up to not only people struggling with similar things but also to my therapists."
Mauger said she's been inspired by her experience and the help she received to want to pay it forward.
"Even my own struggles inspired me because I'm living proof that if you want to get better you have the strength and courage to do so," she wrote. "I want to use my own struggles and turn them into something positive. That's why I would like to continue going down the right path by continuing my education in the medical field. The medical field is about healing and impacting other people's lives in a positive way. I feel as if I have the strength and understanding of what it takes to not only make a difference in the medical field but also in the world. I went from questioning if I was different, to using my struggles as an advantage. My own experiences will help me have the inspiration and compassion to help others."
The Anderson School, located in Eagleville and part of the Montgomery County Intermediate Unit, accepts students in 7th-12th grades and was designed to create a learning environment that meets the academic, emotional/social and therapeutic requirements of students in need of extra support. Students who attend The Anderson School are identified and referred by their school districts.
The Montgomery County Community College Full Tuition Scholarship is just one of over 500 scholarships offered to students each year. For more information about how to apply for scholarships and awards, visit the College's scholarship landing page.
if you are interested in creating a scholarship, please contact the Montgomery County Community College Foundation at 215-641-6324 or by email.
About The Foundation
Established in 1983, the Montgomery County Community College Foundation provides: scholarships for deserving students, grants for faculty projects, equipment and technology, emergency funds for students in need, support for cultural enrichment activities on campus and financial resources for other college programs and activities. The Foundation is able to make a difference in the lives of our students thanks to the generosity of alumni, parents, community friends, private foundations and corporations. To see how you can make a difference and discuss how your gift can be most meaningful to you, contact The Foundation or call 215-641-6324.