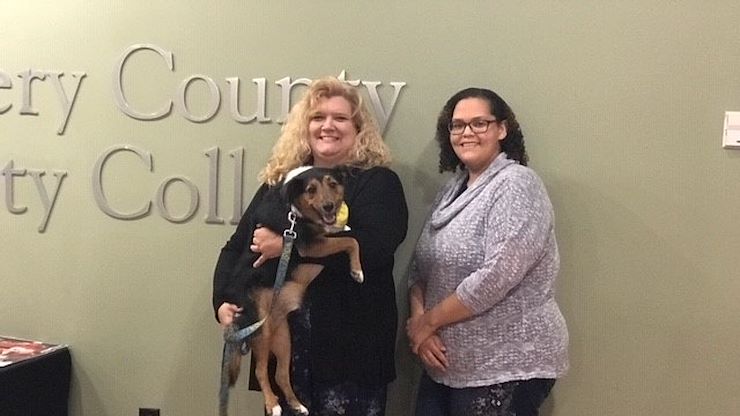 Thanks to the generosity of a 2006 graduate of Chestnut Hill Colleges' School of Continuing Studies, two University Center students will receive a total of $25,000 in scholarship funds to cover the cost of tuition and books.
This year's recipients of the Teresa Christ and Irene Smith-Schneider Scholarship are both graduates of Montgomery County Community College and are now Chestnut Hill College School of Continuing and Professional Studies students taking classes at the University Center in Pottstown. Both Paula Miller and Phoebe Kancianic are majoring in Human Services and have recently been accepted into the combined BS Human Services/MS Administration of Human Services Program.
Paula Miller got married after graduating high school and focused on raising her four children. Now, her children are grown, and Paula has decided to make her education a priority. Paula works as a direct care provider for mentally disabled adults. She says that she enjoys the work and the impact that she makes daily on their lives. However, she feels that she can offer them more with a degree.
"I am a hard worker and am willing to do what it takes to make it through," Paula said. "This scholarship will allow me to advance and give me more study time as I can work just a little less to make it."
Phoebe Kancianic is a first-generation college student, who is married with three children. She believes that her children will benefit from her education.
"My children get to see my dedication to school. Hopefully, this instills education dedication in them. The work that I am invested in will help my family and families like mine," Phoebe said.
Phoebe desires to help families with difficulties. She feels that her education and life experience will support her efforts.
Carole Christ was a 2006 graduate of Chestnut Hill College's School of Continuing Studies. While a student at Chestnut Hill College, Carole was surrounded by other students who were juggling family, work and school responsibilities. She recognized, at that time, how many students there were that could benefit from some financial assistance. Fast forward to 2015, when Carole and her husband, Joe, decided that they wanted to do something to ease the financial burden of adult students trying to complete their college degrees. With the help of a matching gift program from Carole's previous employer, the Christ's have provided scholarship funds that have helped cover the cost of tuition and books for adult students during the final year of study. Since the inception of this scholarship, more than 20 students have benefitted from the generosity of Joe and Carole Christ.
In August of each year, students with senior status (completion of 84+ credits including transfer credits) and a GPA of 3.2 receive an email announcing the scholarship. In addition, students must have verified financial need and remain continuously enrolled during the fall and spring semesters. Eligible candidates must submit a letter of recommendation and a 400-600 word essay titled, "How a College Education has Impacted My Life and How This Scholarship will make a Difference." An independent committee evaluates the submissions and decides on the scholarship recipients. A majority of the past scholarship recipients have continued their education, earned graduate degrees and are now employed in professional positions. Many of them have taken advantage of opportunities to "Pay-It-Forward" to help other students.
MCCC's University Center offers advanced degrees – bachelor's, master's and doctoral - on MCCC's campuses and online through its partnerships with Albright College, Cabrini University, Chestnut Hill College, Immaculata University and Neumann University.