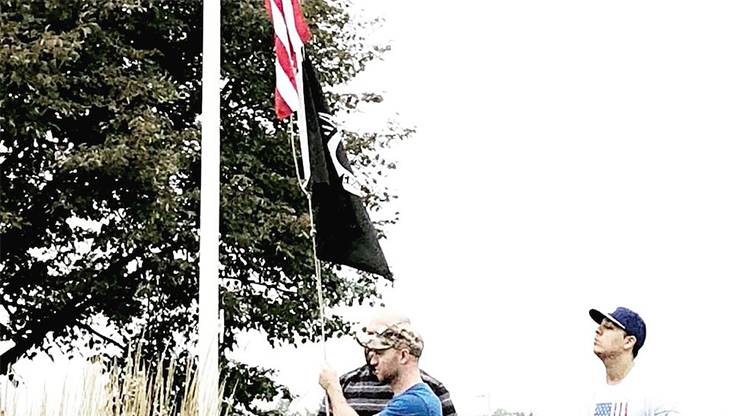 After Adam Oehrle fulfilled his service in the United States Air Force, he worked several part-time jobs and spent some soul-searching time trying to figure out what he wanted to do for a career.
Thinking about his skills and interests, he decided he wanted to work in federal law enforcement. He took the first step toward his goal by enrolling at Montgomery County Community College in January 2018.
After enrolling, he went to MCCC's Veterans Resource Center at Central Campus in Blue Bell to learn about his veterans benefits. He met with Mike Brown, the Coordinator of Veterans Services at that time, who answered his questions and helped him register for classes.
He also met with Prior Learning Assessment Coordinator Mary Beth Bryers to check if his military training, education and experience would qualify for Prior Learning Assessment credits.
All veterans, Bryers explains, receive three credits at MCCC for their basic training in the military, which immediately gives them a head start on earning their degrees or certificates. Additional credits also may be awarded based on each individual's military training, duties, assignments and education.
To make this determination, Bryers reviews the student's Joint Services Transcript, which is used for all branches of the military except for the Air Force, which uses a transcript from the Community College of the Air Force. Both transcripts are accredited by the American Council on Education.
Additionally, veterans, as well as all students, have the opportunity to take the College Level Examination Program to test out of classes and earn credits. Veterans also have the option through the Defense Activity for Non-Traditional Education Support to use their military training and education to earn more credits.
"She (Bryers) has expedited so many processes and made this whole school 'thing' much, much easier," Oehrle said. "She plays a big role in the assistance that our wonderful veterans receive, and all of us that have come into contact with her are beyond grateful."
Overall, Oehrle received 17 credits through PLA, CLEP exams, technical training through military school and from his prior Personal Trainer certification. He will be graduating in May 2019 and then will be attending Immaculata University.
During the past year, Oehrle has served as the president of the Students' Veterans Club after serving as treasurer in 2018. Through these positions, he got to know and help other student veterans and interact with the community, as well as businesses and local leaders.
He was recognized for his leadership with the Excellence in Leadership Award presented during the 2019 Awards Reception on April 29. The award is given to a student veteran who has exemplified leadership through campus and community involvement.
In addition to Bryers, he credits faculty and staff for helping him to reach his goals.
"Mike Brown, Ann Marie Donohue, Deb Greenspan, Denise Williams - these are wonderful people who are truly dedicated to giving 100 percent of themselves to what they do," he said. "Without them, I would not have been able to do the 'fine job' that they keep telling me I am doing.
"Also, Steven Schmitz, Joseph Sorgini and Ben Prybutok - these are people that exemplify dedication and outstanding character," he added. "These professors make you really want to learn and to push yourself."
For more information about Veterans Services at MCCC, contact Matthew Benko, Manager of Veterans Services, at mbenko@mc3.edu or Denise Williams, Veterans Resource Specialist, at dwilliam2@mc3.edu