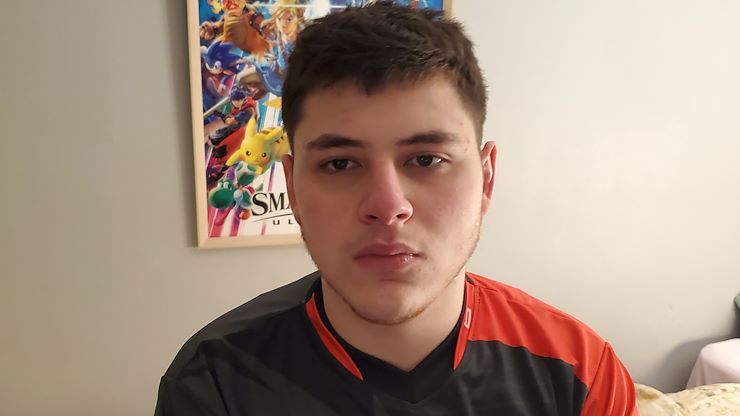 Murad 'FruitSmasher' Shaw had one thing on his mind heading into his first-ever National Junior College Athletic Association (NJCAA) esports "Super Smash Bros. Ultimate" semifinals.
"I just want to win," he said.
And win he did. In a 4-0 series sweep, Shaw, 18, from Montgomery County Community College, knocked out the number one seeded competitor from Mott Community College in Flint, Mich., and advanced to the national title series final.
Unfortunately though, this year's finals were played immediately following the semifinals. Shaw put up a strong showing against the number three seeded competitor from Madison College, in Madison, Wis., but ultimately lost the series 4-0.
Despite the bittersweet ending, the 2020 Abington Senior High School graduate and Computer Science major, will be able to hold his head high among his fellow Mustangs eSports teammates and coaches.
"We are super proud of Murad," said Mustangs eSports Coordinator Ryan Plummer. "He's a really hard worker. It made my job a lot easier. We focused on his mental game this season. He struggled mentally early on. So to see him play complete in a match against both opponents was awesome. He's an incredibly talented player. With the mental piece in place, he will be a strong competitor in the future. I'm happy for him."
Plummer noted that to see the kind of success Shaw had in just his first semester of competitive esports play and to play in a national championship is almost unheard of and an amazing accomplishment.
"We are so proud of everything he's done and been able to accomplish," said Plummer. "He'll be back. This won't be the last time he's in the national championship game."
To get to the finals, Shaw squared off against 176 players in the regular season from junior colleges nationwide in the fighting game, which pits Nintendo's roster of characters against each other in a battle to the death. The top 32 players at the end of the season then advance to the playoffs. Fans across the country could stream the tournament's semifinals and finals matches on the platform Twitch.
Shaw, who is studying to become a game developer, has been an enormous fan of the "Super Smash Bros." franchise for years and plays its 2018-released latest iteration between two and seven hours a day from home.
"I like the characters," he said. "I like the platforming aspect, the combos, the edge guarding – that's the reason I like 'Smash' over other fighting games."
For his unique gamer tag handle, Shaw said he wished it came with a cooler back story. He was part of a mini-community that would hack and rewrite the programming code of Nintendo games, called 'modding', and try to perfect them. Before he could get started though, he needed a name.
"I saw a bowl of fruit," he said, sheepishly. And thus, "FruitSmasher" was born. "It's not my proudest tag but I stick with it."
Shaw realized he had a talent for the game shortly after it was released, when he went to a local tournament hosted by the esports venue "The Laboratory" in Hatboro, and won three of his five games.
"I knew I had potential," he said.
Yet as the old saying goes, "hungry dogs run faster," and Shaw has yet to win an official tournament, outside of two he played in high school.
"I haven't won a real one," he said. "I'm going to be trying my best for the next step."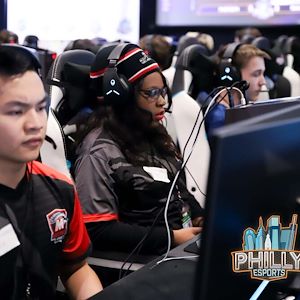 This fall after enrolling at MCCC, a friend convinced him to join the school's newly formed Mustangs eSports varsity team and play on the "Super Smash Bros. Ultimate" team. The experience has been great for him.
"It's pretty good," said Shaw. "I like the team and the coach (Plummer). I like that everyone's pretty serious about it. I haven't been able to play on campus yet because of the pandemic but it's still well done for being online."
Shaw didn't know anyone when he first joined the squad in the fall, but has since made friends with not only his immediate teammates, but also the student-athletes playing other games for the Mustangs, including "Rocket League," "Overwatch," and "League of Legends."
"They're all super nice," he said.
Shaw's success this season is the perfect cap to a fantastic inaugural year for the Mustangs. In addition to Shaw's playoff run, last semester, the Mustangs' "Rocket League" team also made the playoffs.
"We've seen a lot of success," said Plummer. "We've tripled our roster size and added three new games, 'Smash' being one of them. And we played in our first-ever national championship match."
The team currently holds a roster of 36 players, along with coaches and student assistants, up from about 12 students when the program launched in the fall of 2019. Student-athletes must be enrolled in one of MCCC's academic programs, take a minimum of 12 credits per semester, maintain a grade point average of 2.0 or higher and pass a physical.
"A lot of first-year programs have about 11, 12 or 13 players. That was our first semester. We're already hitting second year benchmarks," said Plummer. "The average participation rates for esports, including four-year schools, for a second-year roster, are in the mid-30s. We've already hit that our first-year. We're excited to hit that and keep expanding on that."
The Mustangs team members compete against colleges nationally as part of The National Association of Collegiate Esports (NACE), which is composed of over 170 member schools with over 5,000 student athletes.
Esports as an industry, meanwhile, continues to see tremendous growth year after year. Viewership growth is expected to climb at a 9 percent annual growth rate between 2019 and 2023, from 454 million in 2019 to 646 million in 2023, according to Business Insider. Newzoo, a leading esports analytics firm, projects the sport to make over $950 billion in 2020 globally and expects revenue to cross $1.5 billion by 2023.
Following a great first year, Plummer is looking to capitalize on early success by continuing to recruit and develop high level players and compete for national titles.
"We'll have a decent amount of returning students this fall," he said. "We expect to be just as competitive as we were this year and even more so next year. I expect the 'Rocket League' team to get to the playoffs again and one or two more teams to make the playoffs as well."
As for Shaw, he'll be spending the off-season training for another shot at the title. After all, for him, winning is what it's all about.
"It's as simple as that," he said.
To play with Shaw yourself, follow him on Discord at FruitSmasher1106.