The Montgomery County Chamber of Commerce hosted its 17th annual Business and Career Expo Thursday, Nov. 11, from noon-3 p.m. outside on the Quad of Montgomery County Community College's Blue Bell Campus.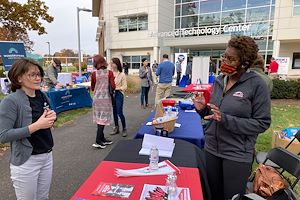 The event featured 35 vendors from across the County on campus, including businesses recruiting on-site for job openings. As the event fell on Veterans Day, participants were asked to make a small donation to support the Montgomery County Community College Veterans Resource Center. A highlight from the event was a special animal demonstration from the Elmwood Park Zoo, including "Hoo-Hoodini," the shrieking owl.
Ryan Rosenbaum, Executive Director of the Chamber of Commerce, called the annual event a great opportunity for members of the Chamber.
"It's a great way to connect with not only the students of Montgomery County Community College," he said, "but also the public with members of the Chamber. Our members can not only showcase their products and services, but also we can create opportunities for students and the public as they pursue their professional goals."
MCCC was the best place to host the event, said Rosenbaum.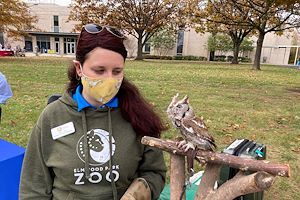 "It's really the cornerstone of the community," he said. "Not only are there fantastic buildings, but this spacious outdoor area is ideal, especially in a COVID world. People can come and feel safe outdoors. Plus the weather is perfect, so we'll give credit to the College for that as well. The College has really bent over backwards to make this happen for us, so this is not the last event that we'll be doing here."
Kyle Longacre, Dean of Workforce and Economic Development, said it was outstanding to see members of the business community on campus.
"This event directly connects our students, staff and faculty to the current openings available in our region," he said. "We know our employers are experiencing significant workforce shortages and Montco is happy to physically be that bridge that connects our next generation of talent to their current employment needs."
Among those pursuing the event was Environmental Studies student and 2020 Pennsylvania National Guard veteran Nicholas Bryant, of Philadelphia.
"It's uplifting," he said, seeing the number of businesses on campus. "It's giving veterans a chance to try and find jobs outside their military career."