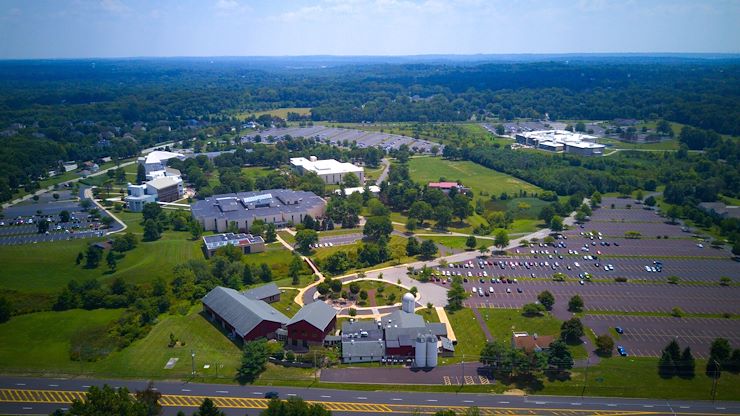 Employee Celebration Week was a time to reflect upon and celebrate the many accomplishments of our dedicated Montco family. President Victoria Bastecki-Perez started the celebration with a special message thanking employees for all of their work to support students and their success.
On Day 1, the Employee Celebration recognized and thanked the 171 employees who collectively have worked 1,905 years. These individuals reached their respective five-, 10-, 15-, 25-, 30- and even 35-year milestones.
On Day 2, the Employee Celebration highlighted the numerous awards, recognitions and achievements made possible by the collective work of our Montco Family.
2020 Innovation of the Year Award, recognizing the promotion of Women in Science and Technology Programs to help our female students, was presented to Mary Beaver, Sarah Johnson, Dr. Mary-Kate Najarian and Dr. Kendall Martin.
The 2020 National League Excellence Awards recognizing outstanding contributions and leadership were presented to Dr. Victoria Bastecki-Perez, Mary Beaver, Kelly Dunbar, Rose Makofske, Dr. Jenna Meehan, Philip Needles, Diane O'Connor and Denise Prushan

The Gateway to College Program received a National Program of Excellence award for the second time for exceeding performance expectations among similar programs nationwide.

The Pennsylvania National Guard Associations named Montco a PNGAS Guard Friendly School

Montco ranked #4 out of the top 10 community colleges in Pennsylvania by Schools.com
The National Institute for Staff and Organizational Development 2020 Excellence Award for exceptional teaching/leadership was presented to Frank Bucci, Gerald Collom, Melinda Copel, Michelle Donovan, David Doskicz-Ivory, Andrew Kosciesza, Sean Hutchinson, Susan Masciantonio, Patrick Rodgers, Keima Sheriff, Heather Thomas, Brent Woods and Dianne Zotter-Mill
Montco earned the Gold Seal for Excellence in Student Voter Engagement
Montco's Medical Assisting Program ranked as the top program by Medical Assistant Advice

The Green Spend Award recognized Montco's commitment to sustainability with its purchase and use of eco-friendly products

The EPAC Coach of the Year for Men's Basketball Coach was Nyere Miller

Montco's Psychology program ranked as one of the top 47 online associate degree programs nationwide

Montco ranked third in community colleges in Pennsylvania (BestColleges.com)

Montco's Literary Magazine won the Most Outstanding Literary-Art Magazine and First Place with Special Merit

Montco received the Greater Valley Forge Transportation Management Association's Diamond Level Award for promoting commuting alternatives

Montco was a National Bellwether Finalist for 24/7 Online Tutoring

"Diverse Issues in Higher Education" named Montco as one of the Most Promising Places to Work in Community Colleges in the nation

Montco ranked #8 in the top 10 schools in Pennsylvania (out of 147) for its associate degree nursing program

Montco earned the Achieving the Dream 2019 Leader College of Distinction for its work in achieving new, higher student outcomes and narrowing equity gaps

Montco was named of the Top 100 Associate Degree Producers as ranked by Diverse Issues in Higher Education

Forbes ranked Montco as one of the best employers in Pennsylvania for 2019 (only community college
On Day 3, the Employee Celebration recognized and thanked four retirees for their dedication and service:
Gary Austin, Lead Custodian, 11/17/97-1/23/0
Joan Bettinger, Counselor/Assistant Professor, 8/28/85-5/31/20
Holly Hillman, Nursing Associate Professor, 9/1/84-8/31/19
Jay Templin, Biology Professor, Pottstown Campus, 8/31/98-1/16/20
On Day 4, the Employee Celebration recognized the promotions of 18 faculty members in 2019! Congratulations!
Promotions to Assistant Professor

Jill Bregovi – Nursing
Joseph Jacques – Baking and Pastry
Karen Karaban – Nursing
Matthew Krause – Compuer
Gayathri Moorthy – Engineering
Kathleen Perlmutter – Medical Laboratory Technology
Giuseppina Russo – History
Jayden Sampson – Criminal Justice
Victoria Vetro – English

Promotions to Associate Professor

Namrata Chauhan – Mathematics
Luz Gamauf – Spanish
Amanda Gatchet – Communication Studies
Garvey Musumunu – Sociology
Dianne Zotter-Mill – Art

Promotions to Professor:

William Brownlowe – Engineering
Melinda Copel – Dance
Marie Hartlein – Computer Science
Marc Schuster – English
On Day 4, the Part-Time and Full-Time Faculty Awards were announced. The Part-Time for Teaching Excellence was presented to Michelle Eppleman, Mathematics Senior Lecturer.
The Part-Time Faculty Award for Teaching Excellence was presented to Lara Ferris, Education Senior Lecturer.
The Gladys and Raymond Pearlstein Award for teaching excellence was presented to Martina Ware, Associate Professor of Nursing.
On Day 5, the Employee Celebration recognized the individual acheivements of the following employees: Cheryl Gellover, Kimberly Murphy, Cheryl Williams, Patricia Rahmlow, Patrice Farrell, Robert Gehring, Chris Copel-Kosciesza,, Mary Beaver, Robert Vogel, Angela Cavaliere, Dr. Mary-Kate Najarian, Dr. Amanda Davis Gatchet, Dr. Margaret Bryans, Marion Bucci, Amanda M Leftwich, Sherry Phillips, Dr. Theresa Sullivan, Wayne Brew, Elaine Venuti, Christy D'Adamo, Charles Chepak, Megan Galeone, Dr. Fred Koslowski, Marie Hartlein, Victoria Coleman, Walter Plotnick, Sherita Rooney, Dr. Christal L. Chatman, Wendy Moyer-Drabick, Jaime Karas Bayzick, Hellene Bankowski, Joseph Burke, Dr. Melinda Copel, Nyere Miller, Ryan Plummer, Cathy Nanovic, Bri Keane, Raymond Leary, John R. Waters, Tracy Kaiser-Goebel, Jill Frechie, Kenneth Gross, Marc Schuster, Dr. Yaniv Aronson, Monzy Thomas, Marie A. Ranselle, Adriene Hobdy, Jane Hannon and Linda Roy.
The 2020 Employee Celebration Week ended with a heartfelt thank you from Frank X. Custer, Chair of Montco's Board of Trustees.
"On behalf of the Board of Trustees of Montgomery County Community College, I would like to thank you all for the great work, cooperation and innovation that you brought to the college this year," Custer said. "More importantly, I would like to congratulate you on achieving the many milestones that you as a group have done. In a community that is devoted to teaching and making sure that our students learn, you have taken your careers to new levels, and I congratulate and thank you for that.
"Under the severe circumstances of COVID-19, you have shown the world how dedicated people will always rise to the challenge. For that I thank you, and, on behalf of the Board of Trustees of Montgomery County Community College, have a great year."