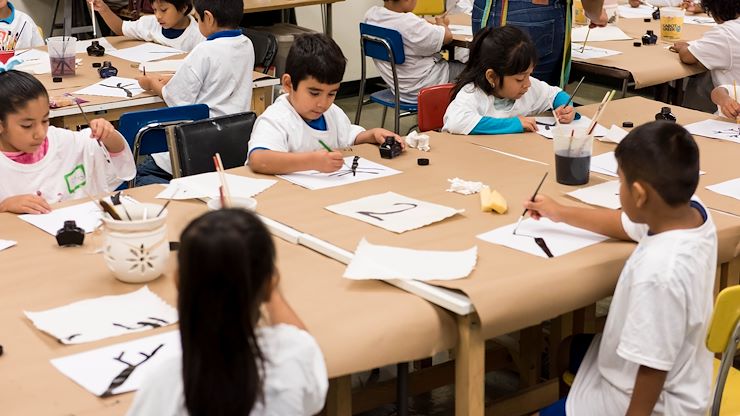 The arrival of spring means that summer is just around the corner, and it's time to think of activities for children and youth. This year Montgomery County Community College (MCCC) has an array of summer camp experiences for campers of all ages and interests.
Arts
Amazing Arts Race summer art camp
For children ages 7-10, who are creative, curious and imaginative, The Amazing Arts Race multimedia experience is the camp for them. This visual, performing and media arts camp, hosted in collaboration with the St. Augustine Academy of Norristown, will be held July 8-19, Monday through Friday, 9:30 a.m. to 5 p.m.
Teams of campers will traverse the art world to complete projects while overcoming some fun challenges and detours along the way. Parents and friends are invited to the final destination on Friday, July 19, at the Fine Arts Center Gallery at MCCC's Central Campus in Blue Bell for a celebration and exhibition. The cost is $300. For more information, contact Patrick Rodgers at prodgers@mc3.edu or 215-619-7349.
Athletics
Phillies Baseball Academy
For young campers interested in baseball, the Phillies Baseball Academy summer day camp will be held at MCCC's Central Campus in Blue Bell. During this week, campers can feel like "major leaguers" as they take the field in their very own official Phillies Baseball Academy uniform and learn from baseball's best. The camp is offered to boys and girls ages 6 to 14. It runs from June 24-28, 8:30 a.m. to 3:30 p.m. Cost for the camp is $450 with new uniform and $435 with a uniform from last year.
Philadelphia 76ers Sixers Camps
If children who enjoy basketball, they will love this opportunity to learn and improve their skills with the pros. The Philadelphia 76ers will be hosting two camps at MCCC's Health Sciences Center at Central Campus in Blue Bell.
The Sixers Basketball Day Camp for girls and boys ages 7 to 13 will be held Aug. 19-23 from 9 a.m. to 4 p.m. Campers will have five days of basketball skill building – ball handling, passing, shooting and more – which will culminate in a "Skills Performance" event on Friday, Aug. 23, at 3 p.m. for families. Cost for the camp is $475.
For younger campers, ages 5 to 7, the Little Sixers Basketball Day Camp gives them an opportunity to learn the basic fundamentals of the game in a positive, friendly environment. Camp will be held Aug. 19-23, 9-11:45 a.m. Each camper will receive a practice jersey, tickets to a team event and a certificate of achievement. At the conclusion of each day, campers will have a chance to share their new skills with their families during a 10-minute showtime. The cost is $295.
Science
Immersion Essentials Science Laboratory Camp
This 5-day camp is a hands-on introduction to lab investigation, designed for students to learn about cancer research and other STEM-related fields. This camp is open to students currently moving to grades 8-10 for fall 2019. This camp runs from July 8-12 at MCCC's West Campus in Pottstown from 9:30 a.m. to 3:30 p.m. The cost is $250, and scholarships are available.
STEAM
Janet's Planet STEAM Summer Space Camp
In this week long space camp, campers will be on a mission of exploration with Janet's Planet and her JP Space Crew. This camp will inspire and help them blast off with a love for science. The camp experience is for ages 8-13 and runs from July 29-Aug. 2, 9 a.m. to 5 p.m. The price is $250 and will take place at MCCC's Central Campus in Blue Bell.
Culinary Camps at The Culinary Arts Institute (CAI)
For aspiring young chefs, CAI offers one-week culinary camps for those interested in developing their cooking and baking skills. Taught by experienced CAI instructors, the camps involve hands-on classes in professional kitchens. Each day, campers will prepare and present food using the techniques they learn.
Camps for junior chefs, ages 10-14, include: Baking and Pastry Camp (July 15-19, Aug. 5-9) and Culinary Camp (July 22-26, Aug. 12-16). For ages 14-17, CAI offers Baking and Pastry Camp (July 22-26, Aug. 12-16) and Culinary Camp (July 15-19, Aug. 5-9).
All camps are held Monday through Thursday, 9 a.m. to 4 p.m. and Friday, 9 a.m. to 1 p.m. at CAI, 1400 Forty Foot Road, Lansdale, Pa. Cost is $499 per week.
Weekly Camp Programs
Future Stars U
For families looking for a weekly camp programs for campers ages 6-13, the Future Stars U Program offers three different experiences – Core Program (featuring technology, science, art and athletics), Sports Fusion (featuring four different sports) and Sports Concentration (featuring one sport). For campers ages 9-13, Future Stars offers several Specialized Programs (featuring a different area each week). Campers are grouped co-ed by grade level. Core and Specialized camp programs cost $325 per week; Sports Fusion and Sports Concentration camps, $295 per week.