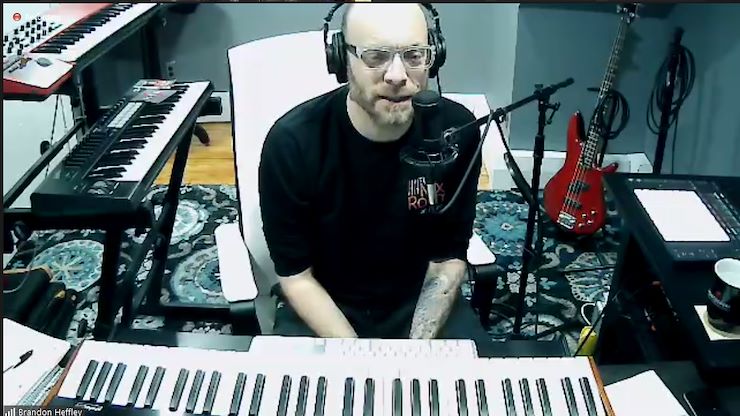 The penultimate episode of "Montco@Home: Local Perspectives on Electronic Music" highlighted a recent Montgomery County Community College graduate and electronic musician.
Brandon Heffley, a 2020 graduate who earned an associate's degree in Sound Recording and Music Technology (SRT), is an experienced producer and engineer with a proven history of working in the music industry.
Skilled in audio engineering, songwriting, audio recording, sound design, and music production, he is a strong business development professional. Heffley is a BMI songwriter and self-published artist, focused on electronic and house music. He's also an expert with the Ableton music software and controller, emphasizing both recording production and live performance.
Heffley was a guest on the virtual show March 24 where he discussed his thoughts on social media, when he knows a song is ready to publish and his songwriting process. He later gave a demonstration of some of the songs he's produced using Ableton.
When it comes to social media, Heffley said he's not an active user, and when it comes to promoting his work, he makes sure it meets his standard before it sees the light of day, he said.
"I don't know if I want validation, especially from social media. I'm not active on social media. I'm a little bit older. You get a thumbs up from your mom or a couple friends. You put it out there, then someone else posts the next thing, and before you know it, you're falling down the line [in the feed]," he said. "I focus on making it good. Before I put it out, I want it to be good in my heart and my mind."
When it comes to making music and knowing when to release a track to the world, Heffley said he trusts his gut.
"I will try and listen to what I've done and maybe bring in another track and listen to them both if they're sonically mixed well. If I have a good feeling, I know I'm almost there," he said. "It takes me a long time because I'm not a trained musician, but I'm learning as I'm going here and taking what I've learned."
Heffley said he tries to follow the advice of "One Republic" vocalist Ryan Tedder when it comes to making music. "He said 'I don't know what I'm doing. I can play guitar a little bit and piano a little bit. But I know what sounds good.'"
"It's no brainer work," he said. "Get something done, build off it and see where it goes."
Hosted by Computer Science Professor Kendall Martin and SRT Instructor Jen Mitlas, "Montco@Home" invites musicians and programmers from the local Pennsylvania and New York region to perform and present the methods they use to create electronic music.
The 2021 Montco@Home virtual series brings musicians and programmers from the local Pennsylvania and New York region to perform and present the methods they use to create electronic music. The show has served as a follow up to the fall 2020 Global Perspectives series, and has included guests such as Temple University and MCCC graduates, one of the few female Ableton Certified trainers in the world, and a local DJ/hip hop producer/professor.
The final episode of the spring semester of Montco@Home is scheduled for Friday, April 9 at 7 p.m., featuring artist Claire Marie Lim. The event is free and open to the community.
Capturing your ears and eyes with a genre-blending sound of Owl City-meets-Clean Bandit-meets-Korean pop, dolltr!ck is Lim's artist project, a Singapore-born music technologist and electronic musician.
She entered the scene as a DJ, remixer, and live experience designer for a slew of Grammy-nominated and Billboard-charting artists, and is now known for her dynamic live electronic music performances that have taken her to esteemed venues and events across the globe and on the World Wide Web. Her endeavors have been hailed as "shattering the glass ceiling of electronic music," especially in her advocacy of female and Asian representation.
For more information, email Integrated Learning at IntegratedLearning@mc3.edu.