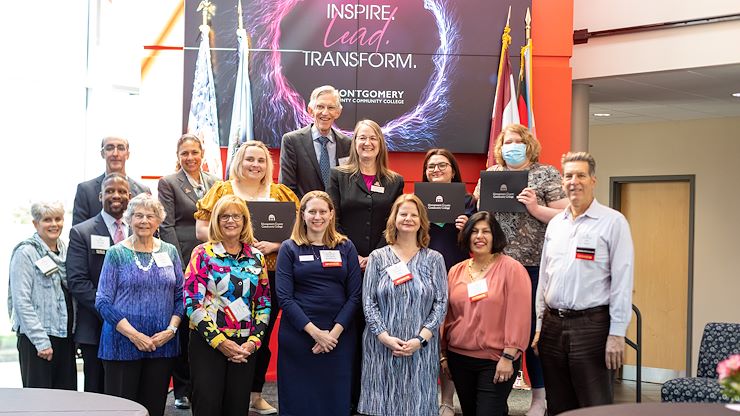 Montgomery County Community College celebrated its inaugural Presidential Scholarship reception inside the atrium of the Advanced Technology Center April 29.
Over 40 faculty, staff, administrators, donors and students were in attendance for the ceremony, which celebrated the recipients of new endowed scholarships, many of whom are first-generation college students, and their donors. MCCC's Foundation established the new scholarships to commemorate the inauguration of Dr. Victoria L. Bastecki-Perez as the College's sixth president last year.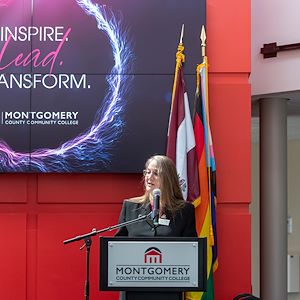 "When I was appointed as the College's sixth president in May 2020, I wanted to create a lasting legacy," said Dr. Bastecki-Perez during the ceremony. "Both my husband, Santos Perez, and I are first-generation college graduates. We understand the sacrifices, and the hard work it takes to complete educational goals. We also know firsthand the transformational impact higher education has had for our careers and leadership experiences. And, because of our experiences, we want to provide students with similar life-altering opportunities."
"The Presidential Scholarships will pave the way for Montco students to have brighter futures for many years to come." — Dr. Victoria L. Bastecki-Perez
What began as six initial scholarships, the first of which was established by Dr. Bastecki-Perez and her husband, quickly grew in number. After the fund was launched, a call went out and five more donors soon answered, eventually raising a total of over $340,000 for students through 11 endowed scholarships.
The first Presidential Scholarships have been awarded to nine students this year including Sarah Barkley, Tierra Bryant, Jessica Hille, Julia Hopwood, Mercedes Joell, Selena Lopez, Grace McGinnis, Kristina Reindel and Shakiya Smith.
Students were very thankful for the scholarship and said the award would be put to good use.
"I feel awesome; I feel really great about that," said McGinnis. "I'm completely financially independent, as a lot of Montco students are, so it's been really helpful."
"This is another way to decrease the barriers to education that working students face," Hille wrote in a thank you letter to donors. "I hope with this assistance, I will be able to focus more on my studies and successfully complete my dental hygiene degree."
"For some students, a scholarship means they can afford to complete the last semester and earn their degree, certificate or credential. For others, it means they do not have to work as many hours and will have more time to spend on their course work. For still others, the scholarship will help to pay for books, childcare expenses, transportation or other essential needs" said Dr. Bastecki-Perez. "The Presidential Scholarships will pave the way for Montco students to have brighter futures for many years to come."
She then thanked the donors of each of the scholarships for their support including Kenneth Baker, Scott and Susan Bentley, the Dental Hygiene Advisory Committee at Montgomery County Community College, The Estate of Robert H. Erb, The Estate of Alma Jacobs, Dan and Kerrin Kunze and the Kunze family, Phoenixville Community Health Foundation Board of Directors and Foundation President and CEO Tamela Luce, Nand and Shashi Todi of the Todi Foundation, as well as her husband, Santos, and child Regan.
Donors, meanwhile, said the chance to help the next generation of students was too great to pass up.
"My husband and I chose to donate because we were both first-generation college students and we remember what it was like to struggle with tuition bills, living expenses, books, and trying to balance a part-time job and study," said Kimberly A. Beadencup, Dental Hygiene Director, who donated through the Dental Hygiene Advisory Committee at Montgomery County Community College. "It was a great experience to be able to be part of this new scholarship, ease those struggles for a dental hygiene student, and now (since she graduated) I can call that student a colleague."
"My wife, Valerie, and I are very committed to the mission of Montco and the students," said Kenneth D. Baker, CEO of NewAge Industries. "We have been very fortunate in our lives and we like giving back to help others. Giving a scholarship, which is in itself giving of knowledge, is one of the best gifts one can provide."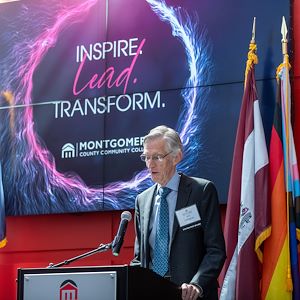 During the event, Joseph Gallagher, Chair of the Montgomery County Community College Foundation Board of Directors, said the ceremony marked a special moment for the College and the future of its students.
"We are celebrating our student scholarship recipients and honoring our generous donors," he said, "whose gifts continue to transform lives."
Established in 1983, the Montgomery County Community College Foundation provides scholarships for deserving students, grants for faculty projects, equipment and technology, emergency funds for students in need, support for cultural enrichment activities on campus and financial resources for other college programs and activities. The Foundation is able to make a difference in the lives of our students thanks to the generosity of alumni, parents, community friends, private foundations and corporations. To see how you can make a difference and discuss how your gift can be most meaningful to you, contact the Foundation at 215-641-6324 or foundation@mc3.edu.