Victoria L. Bastecki-Perez, Ed.D.
President of Montgomery County Community College
Dr. Victoria L. Bastecki-Perez (she, her, hers) proudly serves as the sixth President of Montgomery County Community College, advancing the College's mission and building upon its successes. As an empathetic professional who leads with mind and heart, she relies on her more than three decades of experience in higher education to guide every aspect of the institution to inspire, lead, and transform destinies and future generations.
Since the beginning of her presidential tenure in May 2020, Dr. Bastecki-Perez has spearheaded about $98 million in capital projects to modernize MCCC's two campuses, including the renovation of the science center, redesign of the theater into a cultural arts center, construction of an expanded hospitality institute, renewal of athletic fields, and launch of a STEM-based Challenger Learning Center, the first in Pennsylvania. These transformational projects support MCCC's overall educational strategy to serve learners of all ages and stages of life.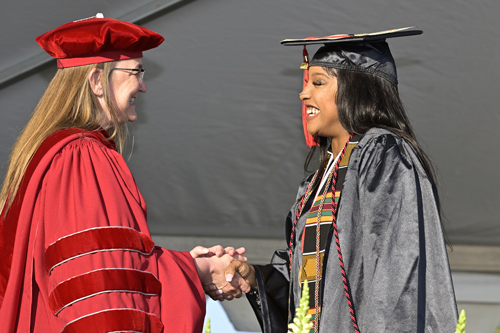 Other firsts for MCCC during Dr. Bastecki-Perez's presidency include being the first community college in the country to offer 24/7 online mental health therapy, the first to partner with the national nonprofit Benefits Data Trust to connect students with services for essential needs, and the first in Pennsylvania to host an Alpha Alpha Alpha National Honor Society chapter for first-generation college students.
In addition to these pioneering initiatives, the MCCC Foundation received its largest gift of $3 million in 2021 to establish the Baker Center of Excellence for Employee Ownership and Business Transformation, a catalyst for employee equity and economic growth for all. In 2022, MCCC received a $1.1 million grant for its new Student Wellness Center at the Pottstown Campus to support its holistic approach to student success.
As a first-generation college graduate, Dr. Bastecki-Perez is passionate about academic equity, inclusion, and belonging. For her inauguration, she and her family established the initial endowed Presidential Scholarship (of 11 scholarships totaling $340,000) through MCCC's Foundation. Under her guidance, MCCC earned the prestigious Achieving the Dream's Leader College of Distinction designation for improving student outcomes and narrowing equity gaps, and MCCC was one of only 10 colleges in the country selected for the national ATD-USC Racial Equity Leadership Academy, which supports the development of strategic racial equity plans.
Other accolades MCCC received during her tenure include being named One of the Most Promising Places to Work for six years, a Pennsylvania National Guard Associations Guard-Friendly School, The White House Vaccine Champion College, and receiving a 2020 Silver Seal Award for high voter participation. In 2022, MCCC celebrated its largest graduating class in history at 1,606 graduates, 550 of which were first generation.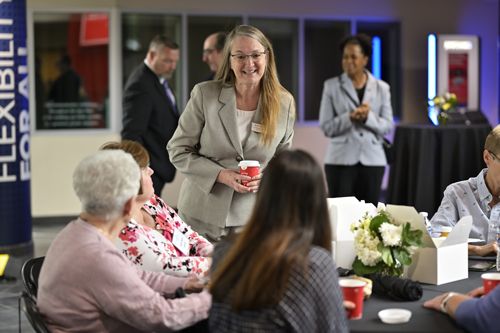 For her visionary leadership, Dr. Bastecki-Perez has been recognized by the 2023 and 2022 Higher Education Power 100 (City & State Pennsylvania), 2023 Lehigh Valley Business Power 100 List, 2022 Metro Philadelphia 100 Education Power Players, 2022 and 2021 Power 30 for Higher Education (Lehigh Valley Business), and has received the 2021 Eugene Jackson Humanitarian Award.
Beyond MCCC, she serves on the board of directors for MontcoWorks (Montgomery County workforce development board), the Collegiate Consortium for Workforce and Economic Development, and the Pennsylvania Commission for Community Colleges. She is a member of the Liaison National Community College Advisory Board, NJCAA Region 19 Presidential Advisory Committee, and the GVF Connected Communities Committee, among others, and is a Peer Evaluator for the Middle States Commission on Higher Education.
Prior to her role as president, Dr. Bastecki-Perez has served as MCCC's Vice President of Academic Affairs and Provost, Associate Vice President of Academic Affairs, Dean of Allied Health and Physical Education, and Director and Professor of Dental Hygiene. She began her academic career as an Assistant Professor and Senior Clinical Supervisor at the University of Pittsburgh School of Dental Medicine for nearly a decade before finding her home at MCCC.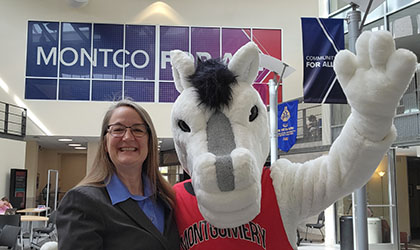 As an accomplished scholar, Dr. Bastecki-Perez holds a CDA and RDH from the University of Pittsburgh, Dental Assisting and Oral Hygiene, and a B.S. in Education from Edinboro University of Pennsylvania. She started graduate coursework through the Edinboro-Oxford Experience study abroad program at Exeter College, Oxford University, before earning an M.Ed. and Ed.D. in Instructional Design and Technology from the University of Pittsburgh. She was named a Distinguished Alumna by Edinboro University in 2000 and the University of Pittsburgh School of Dental Medicine in 2010.
Dr. Bastecki-Perez is a lifelong Pennsylvanian, residing in Montgomery County for the last 20 years with her husband and daughter. In her spare time, Dr. Bastecki-Perez enjoys spending time with her extended family, including her two bonus daughters, traveling, swimming, and dancing with her husband.